Steve Jobs gave pre-release iPad 2 to President Obama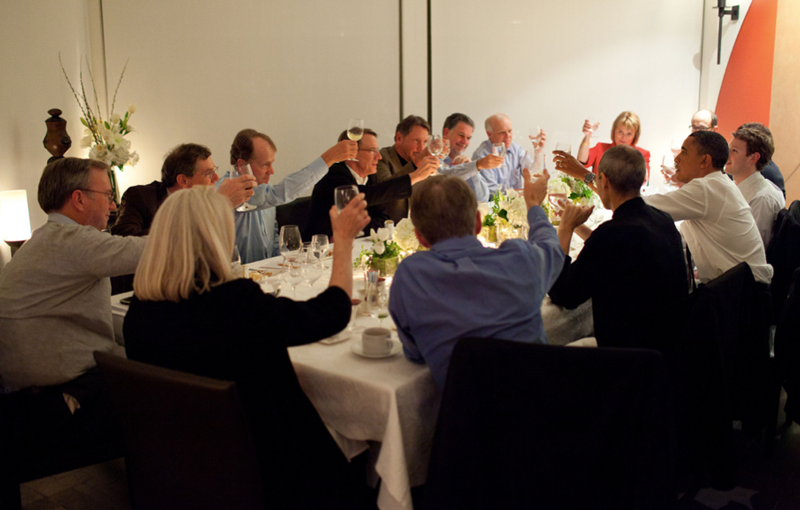 U.S. President Barack Obama revealed recently that one of the perks of his job includes having received an advance copy of Apple's iPad 2 directly from Steve Jobs himself.
Obama revealed the fact in an interview with ABC News' George Stephanopoulous (via NetworkWorld).
"Steve Jobs actually gave it to me, a little bit early," he said. "Yeah, it was cool. I got it directly from him."
Jobs may have had an opportunity to present Obama, a self-professed fan of Research in Motion's BlackBerry phones, with the device at a dinner in San Francisco in February, just two weeks before the unveiling of the iPad 2 in early March.
The dinner included several other prominent Silicon Valley executives, such as Google's Eric Schmidt, Facebook's Mark Zuckerberg and Oracle's Larry Ellison. A photo of the gathering shows that Jobs was seated to the president's left.
In late March, Obama revealed in an interview that he owned an iPad and had tethered it to his BlackBerry smartphone.
Obama has indicated that he holds Jobs in high regard. Last December, the president praised him as an exemplary model of the "American dream."
"We celebrate somebody like a Steve Jobs, who has created two or three different revolutionary products. We expect that person to be rich, and that's a good thing. We want that incentive. That's part of the free market."
The two also met last year to discuss issues regarding technology, the economy and education in U.S.
After leading what some have called the greatest corporate turnaround in the history of the U.S., Jobs stepped down as Apple's CEO in August, saying that the day had come when he could no longer meet the "duties and expectations" of the role. He remains with the company as Chairman of the Board, director, and employee.
Jobs has battled several significant health complications, including pancreatic cancer and a liver transplant, in recent years. Prior to stepping down as CEO, he had been on a medical leave of absence since January of this year.