Google announces nearly $10 billion in quarterly revenue, little mention of Android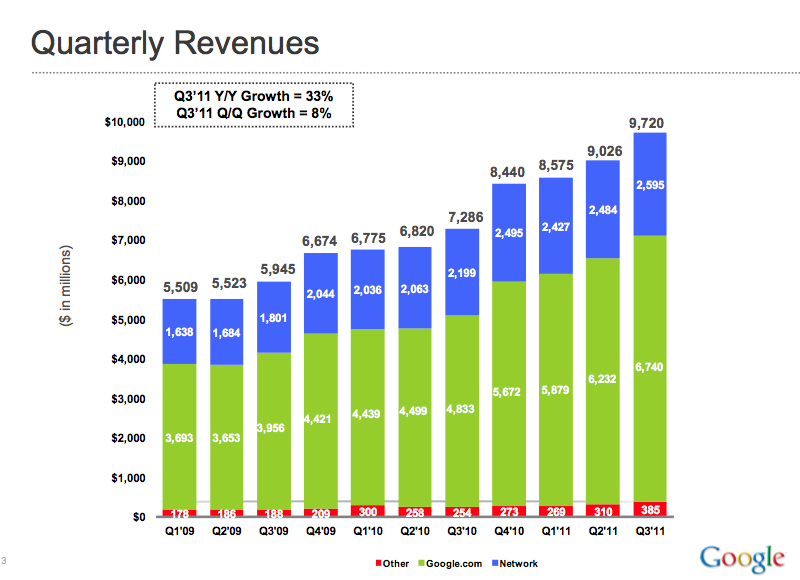 Despite announcing a 33 percent sequential quarterly increase in revenues and promoting its Google+ competitor to Facebook, Google's detailed financial results for Q3 2011 made almost no mention of Android, indicating how little revenue the project actually generates.
Google's $9.72 billion in revenues were generated largely by the company's own web sites, which reported revenues of $6.74 billion, or 69 percent of its income.
"Network revenues," generated through affiliate partners through Google's AdSense programs, contributed $2.6 billion, or 27 percent of the total. Other income outside of Google.com and AdSense advertising amounted to $385 million.
Just over half, 55 percent, of Google's revenues were generated outside of the US, a slight increase in the foreign share over the previous quarter.
In its quarterly earnings presentation (PDF), the company makes a single mention of Android, noting that alongside Youtube and Chrome, it is a "business demonstrating high consumer success."
Outside of that, Google focuses on its "Core ads business," where it makes nearly all of its revenues, and "New businesses where we're investing to drive adoption and innovation: Social, Enterprise, Commerce, Local," a series of efforts including the aforementioned Google+, and competitive efforts including its web-based alternatives to Microsoft Office and its own version of Yelp.
However, Google's revenue figures indicate that outside of its core ads business, there simply aren't any revenues to talk about. In the case of Android, that's because Google has given away software hoping to unlock a market for mobile display advertising and paid search.
During the company's conference call, Google's new chief executive Larry Page noted a "run rate" of $2.5 billion in annual mobile revenues (income derived from Android, iOS, and other platforms), growth of about 2.5 times the company's 2010 mobile revenues, but a tiny fraction of the revenues Apple is generating as a hardware maker.
Battle of the business models
Last year, Steve Jobs indicated that the shift from desktop PCs to mobile devices had changed the business model Google has historically relied upon, because mobile users are now using apps rather than primarily searching for things in the browser.
After initially partnering with Google and essentially handing it the iPhone's web search traffic, Apple responded to Google entering the smartphone business as a competitor with Android by developing its own iAd program as a competitor to Google's mobile ad aspirations. However, Google appears to make the vast majority of its mobile revenue from paid placement of web search results, not from display ads, just as is the case on the conventional desktop.
While pundits like to dramatically pit Apple's iAd against AdMob/AdSense, Apple appears to see its iAd mobile display advertising revenue as an alternative way to monetize third party software development, rather than a core business unto itself. Despite continuously expanding its iAd program, the company is making the vast majority of its revenues (and profits) in selling hardware, which subsidizes everything else the company does.
In its most recent earnings report in July, Apple announced revenues of $28.57 billion on sales of 20.34 million iPhones, 9.25 million iPads and 3.95 million Macs.
Apple also announced having sold 220 million iOS devices through the end of the June quarter, compared to the 130 million Android devices Google had sold then, and the 190 million devices that Google just announced having sold through September. Apple will announce its own fall quarterly earnings October 18.