Rumor: Apple shipped 13M iPads in Q3, short of internal forecasts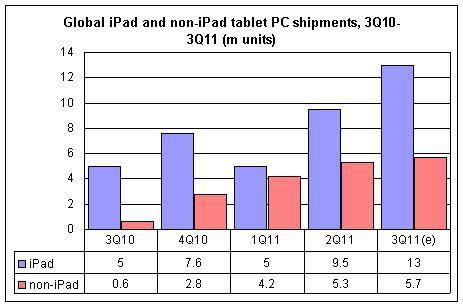 AppleInsider may earn an affiliate commission on purchases made through links on our site.
A new report claims that Apple shipped a record-setting 13 million iPad units in the third quarter of calendar 2011, but suggests that sum did not meet the company's internal goals.
The data comes from a new report on Tuesday from DigiTimes, which claimed that Apple's iPad sales "only reached 13 million units with a sequential growth of 36.8%." It said that Apple's shipments were "impacted by the weakening global economy."
Whether or not iPad shipments fell short of Apple's expectations, sales of 13 million units would be a record setting quarter for the company. That number would handily best the 9.25 million iPads the company sold in its previous June quarter.
In addition, if Apple were to have sold 13 million iPads last quarter, that number would exceed Wall Street expectations. In general, analysts have called for Apple to report sales of around 11 million iPads.
The data point from DigiTimes was presented as a disappointment in the context of lower sequential growth. Across the entire tablet market, shipments reportedly reached 18.7 million units in the third quarter, a sequential increase of 27.5 percent, or less than half of the 60.9 percent sequential growth seen in the second quarter of 2011.
But the numbers, if accurate, also show that Apple outpaced the rest of the tablet industry in a market that the company's iPad already dominates. When the iPad is removed, non-iPad tablets saw growth of just 10.1 percent in the quarter.
The report also said that some tablet makers have reorganized their suppliers, which has caused a shift in supplier rankings. For example, in terms of CPU shipments, Nvidia is said to be the second-largest supplier, while Texas Instruments dropped to fourth place.
Apple is set to reveal its iPad shipments in the company's quarterly earnings report this afternoon. AppleInsider will have full, live coverage.