Twitter CEO points to Apple as 'corporate mentor' as iOS signups triple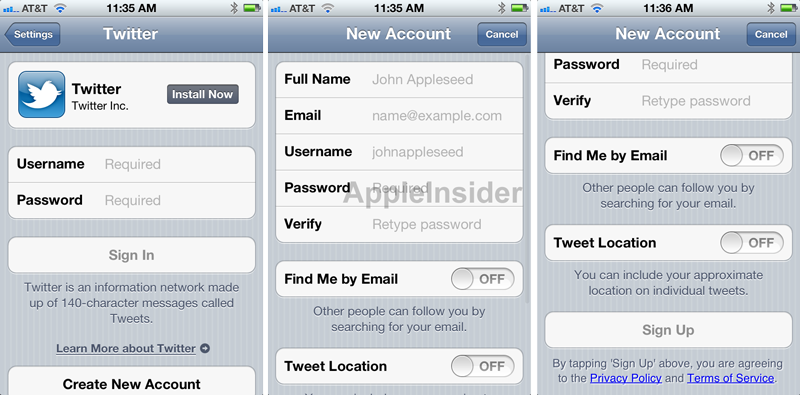 AppleInsider is supported by its audience and may earn commission as an Amazon Associate and affiliate partner on qualifying purchases. These affiliate partnerships do not influence our editorial content.
Twitter CEO Dick Costolo said in an interview that the company views Apple as a "corporate mentor" because of the two companies' common focus on simplicity, while noting that iOS signups for the micro-blogging service have increased three-fold since the release of iOS 5.
During an on-stage interview at the Web 2.0 Summit in San Francisco late Monday, Costolo indicated that he expects the results from his company's new close partnership with Apple to be "even better" than originally thought. GigaOM reports. According to the executive, daily signups for Twitter from Apple's iPhone and iPad devices jumped up more than three times on the first day that iOS 5 became available.
Apple has afforded Twitter an unprecedented system-wide level of integration into iOS. But, for the fledgling social networking company, the benefits from its relationship with Apple are much greater than just increased users.
Costolo noted that Apple is a like-minded company because of the restraint it exercises on its products, adding that he views the iPhone maker as a mentor.
"Those guys [at Apple] are an amazing partner for us. When they think about products and enhancing products they think about editing them," he was reported as saying. "[At Twitter] we're going to offer simplicity in a world of complexity… they're a corporate mentor to us."
Costolo also confirmed on Monday that the company, which launched the service in 2006, has is now worth about $8 billion, as noted by Business Insider. "Let's just call it an even $8 billion," he said. The service has grown to more than 250 million tweets a day and over 100 million global active users.