Apple's iOS 5 Tech Talk World Tour 2011 coming to 9 cities worldwide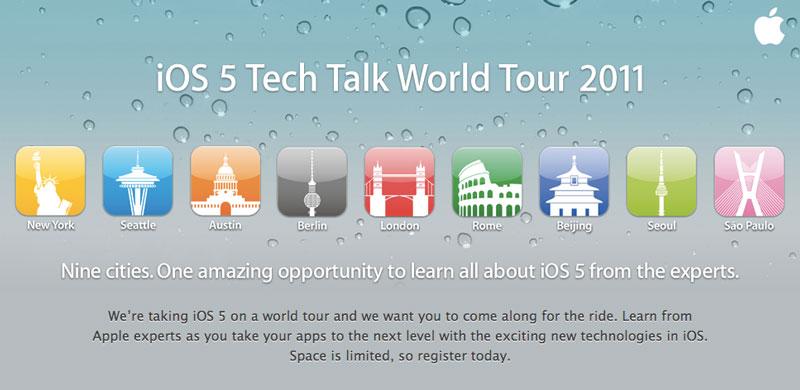 Apple has confirmed that it will bring back its Tech Talk World tour this year, with the iOS 5-focused tutorials coming to nine cities between November and January.
Apple has launched a page for the Tech Talk World Tour 2011 where developers can sign up for the limited-space events. All iOS Developer Program members are eligible to attend.
Because of limited space, Apple said that priority will be given to developers who have an application available on the iOS App Store. The tour will kick off on Nov. 2 in Berlin, and spans three continents: Europe, Asia and the Americas, with three stops in the U.S.
"We're taking iOS 5 on a world tour and we want you to come along for the ride," the site reads. "Learn from experts as you take your apps to the next level with exciting new technologies in iOS. Space is limited, so register today."
The full list of dates and locations follows:
Berlin, Germany - November 2, Maritim ProArte Hotel Berlin
London, United Kingdom - November 7, Kings Place
Rome, Italy - November 9, Rome Marriott Park Hotel
Beijing, China - December 5, Renaissance Beijing Capital Hotel
Seoul, South Korea - December 8, Kintex
São Paolo, Brazil - January 9, Sheraton São Paulo WTC
New York City, New York - January 13, Millennium Broadway Hotel Times Square
Seattle, Washington - January 18, Hilton Seattle Airport and Conference Center
Austin, Texas - January 23, Austin Convention Center
The agenda for the events includes a kickoff starting at 9:00 a.m., leading into a class on iPhone and iPad user interface design at 10:00. Developers will learn about adopting iCloud Storage at 11:00 before a lunch break. In the afternoon, classes will divide into three rooms where they can learn about different iOS features like Newsstand, AirPlay, Game Center, iBooks, printing support and more. The day caps off at 6:00 p.m. with wine and cheese.
For those who can get in, the conference is free. Developers simply register with the Apple ID associated with their iOS Developer Program Membership.
It was rumored in July that Apple would bring back its Tech Talk World Tour for iOS 5. The previous events were held in 2008 and 2009, but Apple did not the event last year.
Tech Talk World Tour is like a mini-Worldwide Developers Conference, with track sessions featuring presentations for developers. Rather than requiring developers to fly to San Francisco, Calif., for WWDC, Apple brings the sessions to them.