Apple's iPhone 4S will launch Nov. 11 on C Spire network in US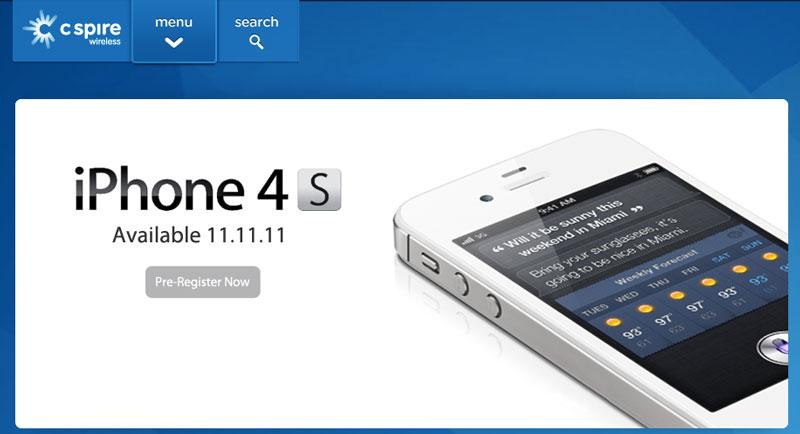 Apple's debut on regional carriers in the U.S. will occur on Friday, Nov. 11, when the iPhone 4S becomes available to customers of C Spire Wireless.
C Spire's official page has been updated to reflect the forthcoming launch date of the iPhone 4S, and also allows customers to pre-register to reserve Apple's latest smartphone. The website also features a "Why C Spire?" section, listing some of the attributes of the smaller, regional carrier versus the "big four" wireless providers in the U.S.
C Spire's individual plans include an unlimited plan with "infinite" minutes, data, messaging and streaming. Those who don't pay for a streaming plan are given 30 minutes per month of free streaming of online content like music and videos, while two hours of streaming runs $5, 5 hours is $10, and unlimited is $30.
The carrier has advertised that its unlimited plan with streaming is $100, compared to 2GB of data and unlimited calling for $114.99 and $119.99 at AT&T and Verizon, respectively.
An individual plan with 500 minutes and unlimited data with free streaming until 2012, for example, carries a base price of $50 a month. For those who don't want a data plan, C Spire also offers entry-level plans starting at 250 minutes with "infinite" messaging for $25 per month.
Those who don't buy a data plan can pay for data as they go, with a Web usage rate of one penny per five kilobytes.
Last month it was revealed that Apple was expanding availability of its iPhone to smaller, regional U.S. carriers starting with C Spire, which has about 900,000 customers. C Spire is based in Ridgeland, Miss., and serves customers in Mississippi, Memphis, the Florida Panhandle, as well as parts of Alabama and Georgia.
The new iPhone 4S is also available in America on AT&T, Sprint and Verizon. The only major carrier that does not offer Apple's smartphone is T-Mobile, which has a 3G service that relies on the uncommon 1700MHz and 2100MHz bands not supported by the iPhone. Users who unlock an iPhone and use it on T-Mobile's U.S. network are restricted to much slower 2G EDGE speeds.