Adobe releases Photoshop, Premiere Elements 10 on Apple's Mac App Store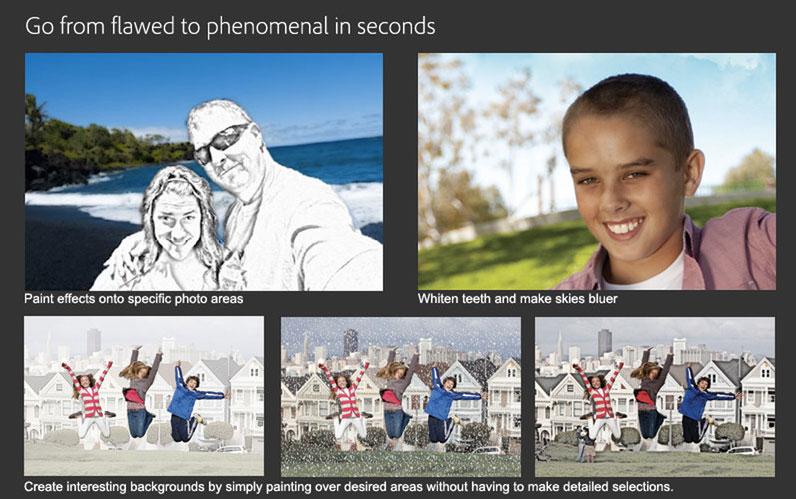 AppleInsider is supported by its audience and may earn commission as an Amazon Associate and affiliate partner on qualifying purchases. These affiliate partnerships do not influence our editorial content.
"Special editions" of Adobe's consumer-oriented editing software, Photoshop Elements 10 and Premiere Elements 10, are now available to purchase on Apple's Mac App Store.
Both Adobe Photoshop Elements 10 Editor and Adobe Premiere Elements 10 Editor are available on the Mac App Store for $79.99 each. The "Editor" portion of the name reflects the fact that the Mac App Store versions of the software do not include the Elements Organizer or support case-sensitive HFS volumes, while Premiere Elements 10 Editor also lacks Smartsound capability.
The release of "special editions" of Adobe's consumer photo and video editing software comes less than two months after they were released at retail. The full version of both Photoshop Elements 10 and Premiere Elements 10 come at a higher suggested price of $99.99 each.
Adobe originally debuted on the Mac App Store in July with the release of Photoshop Elements 9 Editor. Adobe's support of the Mac App Store is noteworthy, as many of Apple's competitors have chosen to avoid the digital distribution storefront, which gives Apple a 30 percent cut of sales.
Adobe Photoshop Elements 10 Editor
Adobe is pitching its Mac App Store version of Photoshop Elements 10 as a product that "works great with iPhoto when you're ready to go beyond the basics." The $79.99 purchase includes all of the editing features of the full version, and can be installed in English, German, French and Japanese.
The "top features" of Photoshop Elements 10 Editor, according to Adobe, are:
Go from flawed to phenomenal in seconds with automated options that help you get great results with just a few clicks. Simply paint effects and patterns on photos to achieve stunning results.
Count on step-by-step assistance—Let Guided Edits help you achieve both basic edits and artistic effects by walking you through each step. New options help you create dramatic Depth of Field, Picture Stack and Orton effects.
Make unwanted photo elements vanish with one stroke of the enhanced Spot Healing Brush that fills in backgrounds beautifully, powered by the content-aware fill technology from Adobe Photoshop.
Create the perfect photo by easily combining the best from multiple photos. Create great group shots, expanded panoramas, perfectly lit shots, and more.
Share the way you want using flexible templates to create photo books, cards, calendars, and more. Add curvy, flowing text that automatically flows around subjects, shapes or any path you choose.
Adobe Photoshop Elements 10 Editor requires Mac OS X 10.6.6 or later. It is a 1.21GB download. Other features of the "special edition" software listed by Adobe are:
Layers-based image editing with enhanced support for layer masks and layer styles
Transform images using powerful compositing and image extraction tools
Over 50 tools for selecting cropping, painting, typing, retouching and adjusting
Powerful, automated color correction tools with precise control over different image parameters
Hundreds of filters with unlimited options
Extensive 3rd party plug-in support
Advanced text typography
Adjust image size and resolution
Prepare and export images for the web
Create Picture Packages and Contact Sheets for fantastic print output
Adobe Premiere Elements 10 Editor
Like Photoshop Elements 10 Editor, Premiere Elements 10 Editor can be installed in English, German, French and Japanese. Adobe's description touts that its award-winning video editor allows users to "turn your video clips into memorable movies." Top features are:
Create a polished movie instantly—InstantMovie automatically edits together your best clips with coordinated music, titles, and effects from your choice of movie theme. Enjoy over 30 fun themes.
Save time with automated options—Fix shaky footage, color and lighting problems, trim away all but your best footage, and balance audio elements to give you professional-quality sound throughout your movie.
Easily do more with video clips and photos—Make all your memories shine whether they're captured on video or in photos. Enhance color in video clips as easily as with photos, and quickly bring photos to life using customized pan and zoom motions.
Quickly add professional polish with TV-style visual and audio effects.
Showcase clips and movies anywhere, including on discs, HD TVs, Facebook and YouTube™. Also share via convenient DVD-style viewing experience online.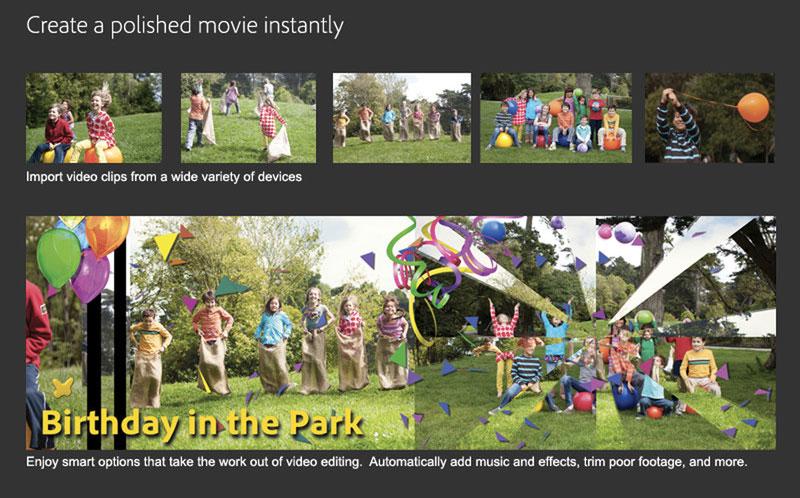 Adobe Premiere Elements 10 Editor also requires Mac OS X 10.6.6 or later. It is a 924MB download from the Mac App Store. Additional features listed by Adobe are:
Storyboard or timeline view with 99 audio and video tracks for unlimited creative possibilities
Hundreds of effects and transitions
Professional quality audio effects and controls
HD or SD format support for importing, editing and sharing
Automatic trimming of poor footage (SmartTrim)
Full keyframing for effects and motions
Powerful compositing options including blue/green screen and multiple picture-in-picture effects
Effects masking & motion tracking
Customizable, flexible workspace
Easy title creation with dozens of templates and full creative control of backgrounds, text formatting, animations and more
Custom disc menus
Export to AVCHD, burn to DVD or Blu-ray, all within a single program
Burn HD video to standard DVDs