iOS 5 adoption on iPhone nears 38%, but iPod touch lags behind at 12%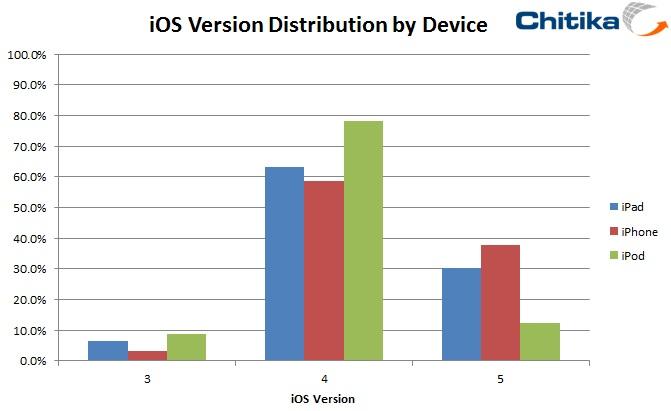 38 percent of iPhone users are running iOS 5 within weeks of the software's release, but iPod touch users have been slower to upgrade, with just 12 percent running the latest version of Apple's mobile OS, according to a new analysis.
Data analytics company Chitika Insights took a look at iOS traffic for the week of Oct. 22-28. The firm's data showed that 37.7 percent of iOS traffic from iPhones and 30.3 percent from iPads came from iOS 5, a sharp increase from the 20 percent average for all iOS devices during the first week of the software's availability.
But, the iPod touch has seen a significantly slower rate of adoption, with just 12.2 percent of traffic coming from iPods running the new OS. iPod touch traffic also had a higher percentage of devices still running iOS 3: 8.8 percent, compared to 6.5 percent for the iPad and 3.2 percent for the iPhone.
A likely cause for the lag in iOS 5 adoption among iPod touch users may simply be incompatibility. For instance, students who took advantage of last year's back-to-school promotion for a free 8GB second-generation iPod will be unable to upgrade to iOS 5.
As for the iPhone, both the iPhone 4 and iPhone 3GS are eligible to update to the latest version of the software. All iPad models are also able to upgrade.
The surge of new iPhone 4S purchasers should make a significant contribution to the share of iOS 5 traffic from iPhones, as the devices come with iOS 5 pre-installed. Apple sold four million units of its newest smartphone in the first weekend alone. The company is on track to set an all-time record for iPhone sales this quarter.

Apple released iOS 5 on Oct. 12 to user interest so high that it crippled the company's servers for most of the day. Notable new features include Notification Center, iMessage, Reminders and Newsstand.
Meanwhile, rival OS Google Android has faced its share of difficulties in providing updates for the latest versions. Late last month, blogger Michael Degusta of the Understatement demonstrated that a number of high-profile Android phones have seen software updates drop off before the devices are even two years old.