26% of Amazon Kindle Fire buyers delaying purchase of Apple's iPad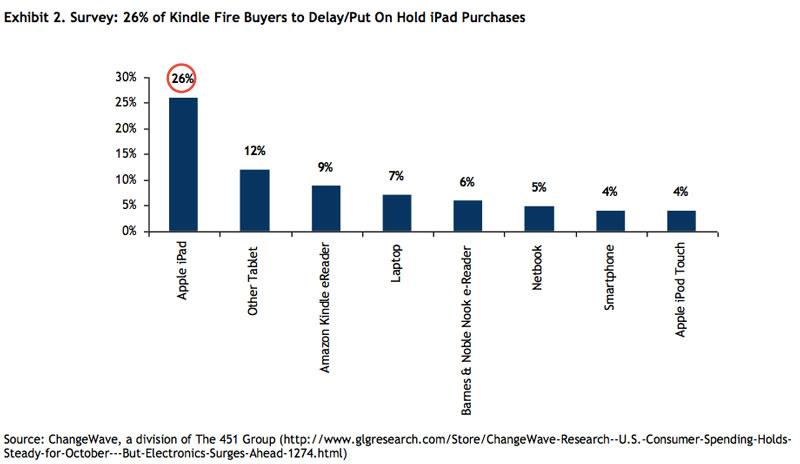 AppleInsider is supported by its audience and may earn commission as an Amazon Associate and affiliate partner on qualifying purchases. These affiliate partnerships do not influence our editorial content.
A new survey of customers who plan to buy Amazon's Kindle Fire touchscreen tablet found that 26 percent of those said the product has prompted them to delay or put on hold a purchase of Apple's iPad.
The survey, conducted by ChangeWave and RBC Capital Markets, also indicated that the Kindle Fire has more pent-up demand ahead of its Nov. 16 launch than the iPad 2 had earlier this year. Hype for Amazon's new tablet with a color screen is said to be driven by the device's low $199 starting price, or less than half of the entry-level $499 iPad 2.
The results come from a poll of 2,600 respondents conducted in October, and show that 5 percent of respondents said they have already preordered a Kindle Fire or are "very likely" to purchase soon. Prior to the iPad 2 launch, 4 percent of respondents said they were "very likely" to buy Apple's second-generation tablet.
Analyst Mike Abramsky said the survey suggest that the launch of the Kindle Fire could present a near-term risk for Apple, as more than a quarter of those buying Amazon's tablet indicated they chose it over the iPad. However, Abramsky also remains optimistic on Apple and its iPad lineup going forward, as he believes there is room for both Apple's tablet and Amazon's to grow.
Any sustained uptake for the Kindle Fire will depend on continued "buzz" and positive reactions after the device becomes available next week. But once the hype dies down, Abramsky believes there are enough unique features with Apple's iPad platform that will allow it to retain leadership in the tablet market.
Specifically, the analyst offered a list of four ways in which the iPad differs from the competition: Apple's ecosystem and the large amount of content available on the App Store and in iTunes; the iOS user experience; a larger display, 3G connectivity and cameras make the iPad a true "post-PC" device when compared with the Kindle Fire; and Apple's expansive global distribution places the iPad in 90 countries, versus the Kindle Fire's online-only availability.
Abramsky has maintained an "outperform" rating for AAPL stock with a price target of $500 in the face of any near-term "valuation volatility." He believes that Apple's key franchises in the iPad, iPhone and Mac are "large, defensible and underpenetrated, with significant growth drivers ahead."
Looking forward, he sees Apple selling 50 million iPad units in the company's 2012 fiscal year, representing 54 percent year over year growth. And in the 2013 fiscal year, he sees iPad sales growing another 30 percent to hit 65 million.