Developer survey finds iPad domination, growing interest in Kindle Fire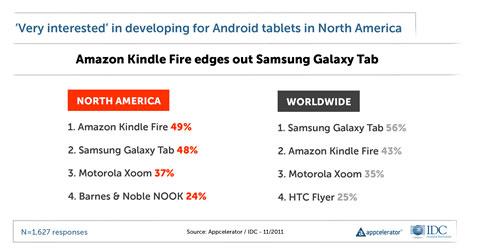 AppleInsider may earn an affiliate commission on purchases made through links on our site.
A new poll of mobile developers has found that nearly all are interested in developing for Apple's iPad, while the still-unreleased Amazon Kindle Fire is already the second-most-popular Android device among developers worldwide.
The new data, from Appcelerator and IDC, comes from a survey of more than 2,000 developers conducted earlier this month. Of those polled, 91 percent said they are "very interested" in developing for the iPhone, while 88 percent indicated the same for the iPad.
Both of those numbers make Apple the market leader, but the iPad's lead is far more pronounced as Apple's touchscreen tablet continues to dominate sales in the market. Among non-iPad tablets, the survey found that the Samsung Galaxy Tab is the most popular device to develop for, but finishing just behind it was the Amazon Kindle Fire.
Worldwide, 43 percent of developers said they are very interested in crafting software for Amazon's new touchscreen tablet, compared to 56 percent for the Samsung Galaxy Tab. But in America, the Kindle Fire actually edged the Galaxy Tab, 49 percent to 48 percent.
Though the Kindle Fire is based on Android, it's a heavily modified version of Google's mobile operating system that aims to smooth out any rough edges with the software, and also looks to push sales of content through Amazon. With the Kindle Fire, users will be able to buy movies, TV shows, books and music direct through Amazon, as well as applications from the Amazon-controlled "Appstore."
The interest of developers in the Kindle Fire, as well as divisions between it and other Android-powered tablets, could further fuel speculation that Amazon's new tablet will only further fragment the Android platform. Apple executives indicated earlier this month that they are not concerned about the $199 Kindle Fire, as they believe it will shake up the Android-based tablet landscape rather than directly compete with the iPad.
The Amazon Kindle Fire will be available on Tuesday, and is the online retailer's first color touchscreen device. Reviewers began offering their take on the device earlier Monday, and most said they felt the device was priced right at $199, but that it would not be able to compete with Apple's more powerful, larger and more full-featured iPad lineup.