HP leads all 1.2M non-Apple tablets sold in US in 2011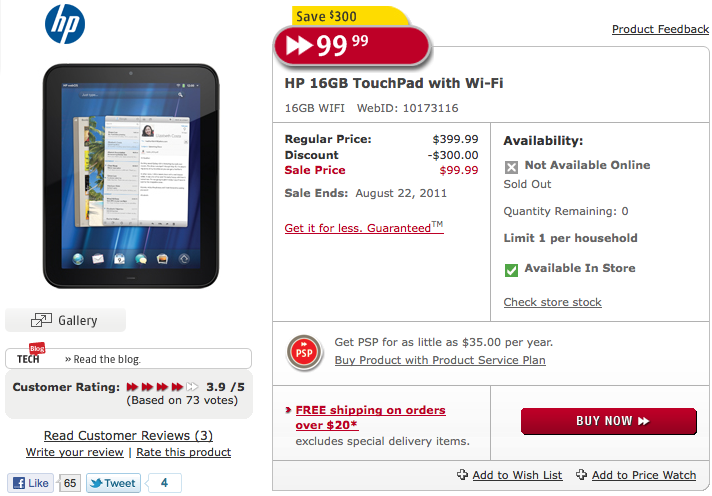 AppleInsider may earn an affiliate commission on purchases made through links on our site.
The NPD Group on Tuesday offered a picture of how tablets that are not Apple's iPad are faring in the market in the U.S., revealing that Hewlett-Packard's $99 fire sale of the failed TouchPad gave it the largest unit share so far in 2011.
HP was the top non-Apple tablet brand for retail sales between January and October of 2011, taking a 17 percent share, according to NPD. That narrowly bested Samsung, which came in second place with 16 percent.
In third was Asus, earning a 10 percent share of the U.S. market, while Motorola and Acer each followed with 9 percent. Research in Motion, which makes the struggling PlayBook, didn't crack the top five.
The fact that total U.S. tablet sales could only muster 1.2 million total units in a ten-month span shows the disparity between the iPad and everyone else. For example, in the last quarter alone, Apple reported worldwide sales of 11.2 million iPads, though a regional breakdown of the three-month period was not provided.
Still, NPD said that tablet hardware sales for non-Apple vendors accelerated throughout 2011, with each quarter performing better than the last. Third-quarter sales were said to be twice as strong as the second quarter of 2011, while second-quarter sales were three times better than the first three months of the year.
"If you look at the tablet market without Apple there are a number of high-profile brands vying for that number two spot," said Stephen Baker, vice president of industry analysis at NPD. "According to NPD's Consumer Tracking Service, 76 percent of consumers who purchased a non-Apple tablet didn't even consider the iPad, an indication that a large group of consumers are looking for alternatives, and an opportunity for the rest of the market to grow their business."
The numbers show that the U.S. tablet market outside of Apple is dominated by companies that build Windows-based PCs. One report from last week claimed that major PC makers, including HP, Acer and Asus, plan to gradually exit the tablet market in 2012, conceding it to companies that can provide content like Apple, Amazon and Barnes & Noble.
Though the NPD's report doesn't detail specific hardware models, HP's lead in the tablet market was no doubt made possible because of the company's discontinuation and subsequent $99 clearance of its TouchPad beginning in August. HP's decision to ax the webOS-powered TouchPad came only a few months after the hardware hit the market and was met with sluggish sales, forcing the company to take a $100 million charge for unsold inventory at resellers like Best Buy.
In all, non-iPad U.S. tablet sales are said to have brought in $415 million at retail in 2011. When accessories are thrown into the mix, total retail revenue was said to be nearly $700 million.