Microsoft to follow Apple's Lion lead with digital delivery of Windows 8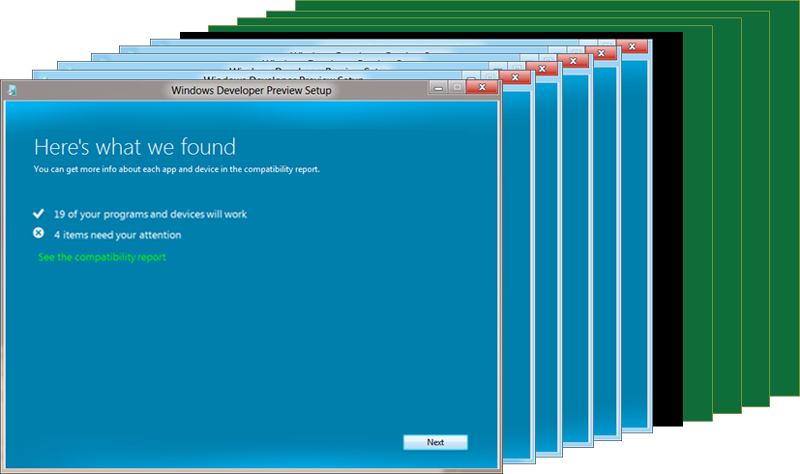 Much like Apple did with the release of Mac OS X 10.7 Lion in July, Microsoft plans to make the simplest and easiest method of installing Windows 8 a download over the Internet.
Web delivery is one way that Microsoft is hoping to speed up and simplify the installation process with its forthcoming operating system release. In a post to the company's official blog this week, Steven Sinofsky, president of Microsoft's Windows Division, detailed the setup experience users will see with Windows 8.
Sinofsky explained that Microsoft aims to satisfy two distinct types of customers in the install process: those who want to install with minimum hassle, and those who want to do a clean install with more options, control and customization. Microsoft's simpler solution will allow users to simply launch a file that can be delivered via the Web, not unlike Apple's Lion, which is available for purchase and install through the Mac App Store.
"In the past, if you wanted to buy an upgrade for Windows, it involved purchasing a boxed product from a retail outlet, taking it home, (sometimes being infuriated while trying to open the box,) and inserting a DVD," Sinofsky explained. "However, buying boxed software is quickly becoming the exception rather than the rule, with more and more software being purchased online as broadband penetration increases and large-size media downloads become more common.
"While we will continue to offer boxed DVDs, we are also making it easier than ever to purchase and install online. This includes starting the setup experience online as well, and having one continuous integrated experience from beginning to end."
Microsoft's Web setup will allow the company to "pre-key" the setup image that is downloaded to a unique user. This means users won't need to enter the 25-digit product key that is currently necessary to install existing versions of Windows.
Sinofsky stopped short of saying that the Web install method will be the preferred way for users to install Windows 8, though the simplified process will likely make it ideal for most users. Through one application, Microsoft will scan a user's system for compatibility, download Windows 8, and then install the operating system.
Apple has made it clear that the Mac App Store is the preferred way for users to upgrade to Mac OS X 10.7 Lion, though the company has made Lion also available on a USB thumb drive. But while Lion costs $29.99 on the Mac App Store, its $69 price tag when bought on a USB drive is more than double the price of the digital download.
Of course, Microsoft's digital delivery method for Windows 8 is very different from Apple's approach, in that Microsoft does not have a centralized software storefront akin to Apple's Mac App Store. Users will have to load the dedicated Windows 8 Setup application to make the upgrade on their system, while the Mac App Store is available on all up-to-date systems running Apple's previous-generation operating system, Mac OS X 10.6 Snow Leopard.
Beyond digital delivery, Microsoft has made a number of other changes to help simplify and speed up the Windows 8 install process. Through a number of modifications to the upgrade engine, Microsoft says it has reduced a clean install time from 32 minutes for Windows 7 to 21 minutes with Windows 8.
The greatest improvement will be seen for power users who complete a "super upgrade," which, in Microsoft's tests, includes 1.44 million files and 120 installed applications. While a Windows 7 upgrade under that scenario would have taken 513 minutes, Windows 8's advertised upgrade time is just 52 minutes.