Apple cuts prices of refurbished iPad 2s by as much as $50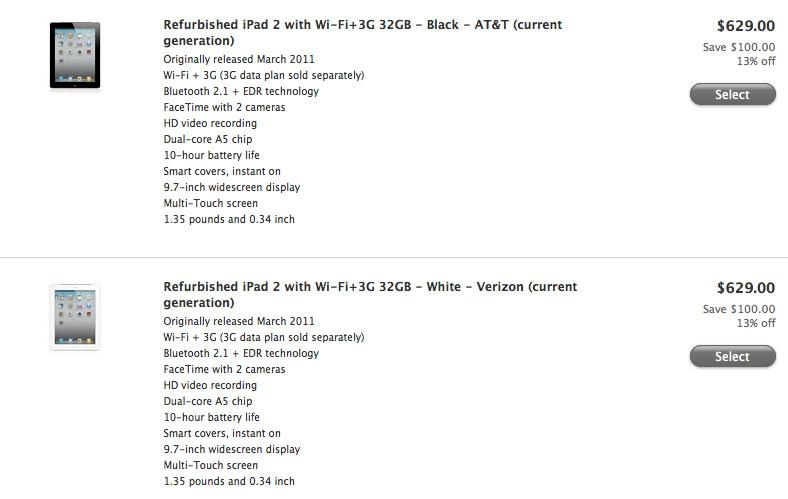 Apple on Friday quietly reduced the prices of its refurbished iPad 2 units even further, offering as much as $100 off the price of a new unit and $50 less than the previous refurbished prices for some models.
The new discounts at Apple's online store apply to both Wi-Fi-only and 3G-capable versions of the iPad 2. Prices now start at $419 for the refurbished 16GB Wi-Fi iPad 2, a savings of $80 off its regular price.
The discounts grow to $100 starting with the 32GB Wi-Fi model, which is priced at $499 refurbished. Similarly, the high-end 32GB Wi-Fi model is available for $599, or 14 percent off the regular price.
Apple is also selling the entry-level 16GB 3G-equipped models for $80 off, with the 12 percent discount leaving a price of $549. Like with the Wi-Fi-only models, the savings grow to $100 starting with the 32GB 3G model for $629, and 64GB for $729.
All refurbished products from Apple are tested and certified, and they include a one-year warranty. The refurbished iPad units also include a brand new battery and outer shell.
Previously, a refurbished iPad 2 came with a $50 discount, pricing the entry-level 16GB model at $449. Friday's increased discounts offer an additional $30 off all 16GB models, while the 32GB and 64GB capacities have been doubled from $50 off to $100.
AppleInsider has affiliate partnerships and may earn commission on products purchased through affiliate links. These partnerships do not influence our editorial content.