Apple accounts for three of Google's top ten 2011 searches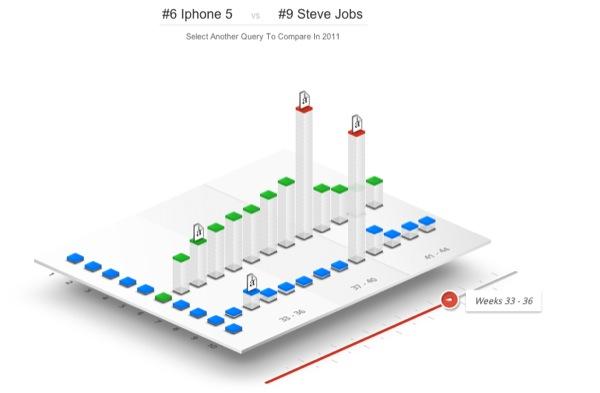 AppleInsider is supported by its audience and may earn commission as an Amazon Associate and affiliate partner on qualifying purchases. These affiliate partnerships do not influence our editorial content.
Three Apple-related search terms were included in Google's Zeitgeist 2011, with Steve Jobs, the iPhone 5 and iPad 2 all ranking as one of the top ten fastest-rising global queries recorded by the internet search giant.
According to Google's annual list, which records the fastest-rising searches in the world, the iPhone 5 (ultimately the iPhone 4S) was the top queried Apple item in 2011, following Rebecca Black, Google+, Ryan Dunn, Casey Anthony and Battlefield 3.
Searches for Steve Jobs, who died in early October, ranked at number nine on the Zeitgeist, while the iPad 2 rounded out the top ten.
While searches for the iPhone 5 saw gradual growth throughout the year, queries for the handset and Steve Jobs both spiked in early October. Apple launched the iPhone 4S on Oct. 4 and Jobs died on Oct. 5, causing millions of Google users to seek out information regarding the two closely-related topics.
The iPad 2 came in at number ten on the list, with searches peaking on Mar. 3, a day after being unveiled at a special Apple event. The company's second generation tablet went on to enjoy huge sales numbers in 2011, despite rumors that the iPad 3 will make its debut next year.
Google's Zeitgeist comparing searches for the iPhone 5 with Steve Jobs
Apple dominated the global list for fastest rising tech and gadgets, holding seven of the ten spots for 2011. iCloud, Mac OS X Lion, iPad 2, iPod touch 5G, iPhone 5 and MacBook Pro 2011 took the top six spots respectively. Adobe Reader X stopped a top seven Apple sweep, coming between the MacBook Pro and Steve Jobs.