Apple execs have discussed the 'future of TV' with major media companies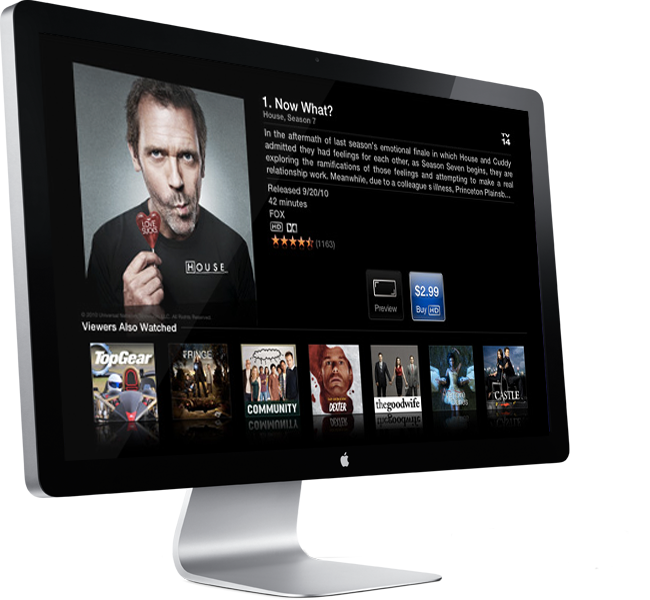 AppleInsider may earn an affiliate commission on purchases made through links on our site.
Apple is said to be pushing forward with its plans to launch a full-fledged television set, holding meetings with media executives and sharing their vision for the future of the living room, including the possibility of storing recorded TV content in iCloud.
Apple executives have been meeting with executives from media companies to discuss "their vision for the future of TV," according to The Wall Street Journal. Those meetings, which have included Apple Senior Vice President Eddy Cue, reportedly been vague discussions about how users could access content "across phones, tablets and TVs."
But the report reiterated that Apple is working on its own connected television set, something that would go well beyond the company's current set-top box offering with the Apple TV.
"Apple is working on its own television that relies on wireless streaming technology to access shows, movies and other content, according to people briefed on the project," the report said.
The talks are said to have covered how Apple would stream content to users in new ways, allowing them to continue watching video across multiple devices like a TV, tablet and smartphone. But the plans also cover what could be done with Apple's existing products, including the iPhone, iPad and Apple TV.
"The TV device Apple is working on would use a version of Apple's wireless-streaming technology AirPlay to allow users to control it from iPhones and iPads, according to people briefed on the matter," the report said. "When the company plans to start selling such a device and whether it would receive traditional broadcast or cable signals remains unclear, said these people, who say Apple may change its plans."
One system Apple is said to have worked on would integrate DVR storage into its existing iCloud service, allowing users to watch shows they have bought or recorded on multiple devices.
"The company has also talked to television-service providers about teaming up on new video services for Apple devices, according to people familiar with the matter," the report said. "It has also broached the idea of licensing content directly from media companies for some sort of subscription-TV service, resembling the packages now offered by cable operators, but the talks have been 'exploratory,' according to people familiar with the matter."
Rumors of an Apple television set have gained considerable traction since the release of the authorized biography of Steve Jobs in October. In that book, Jobs hinted to biographer Walter Isaacson that Apple was at work on a completely new device that would feature "the simplest user interface you could imagine," saying he had finally "cracked" the secret to an easy-to-use TV.
Reports have suggested that Apple's anticipated television set could arrive as early as mid 2012, while others have seen Apple announcing it in late 2012 for an early 2013 sale date. One report from earlier this month claimed the TV will come in three sizes, including 32 inches and 55 inches.