Hard drive supply improving after Thailand disaster, minimal effect seen on Apple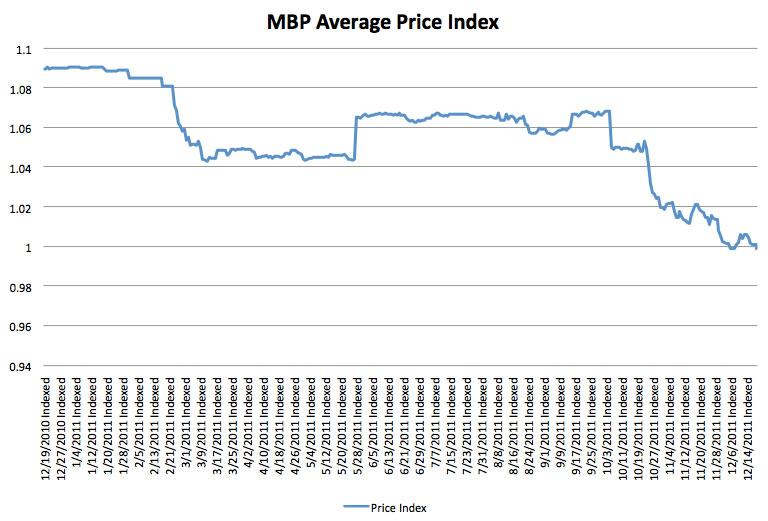 Prices and inventory of hard disk drives lineup appear to have bottomed out and begun to recover from the devastating flooding in Thailand, with no sign of a significant impact on Apple.
New figures from Dynamite Data provided to AppleInsider reveal that prices of traditional spinning hard drives increased between 50 percent and 150 percent in the last quarter as the flooding affected production. In fact, the data shows that e-commerce inventory levels of hard disk drives fell 90 percent in less than one week.
But Kristopher Kubicki, data architect with Dynamite Data, found that hard drive makers have begun to recover from the disaster, as inventory and prices have leveled off and are showing signs of improvement. The data comes from tracking of the 50 most popular hard drive models from online retailers in both prices and inventory.
Kubicki also provided AppleInsider a look at data specifically related to Apple, with prices and inventory of the MacBook Pro lineup throughout 2011. The research showed that pricing on the MacBook Pro actually fell on average 9 percent over the last year, even in the face of the hard drive shortage.
When he began to look into MacBook Pro pricing and availability, Kubicki said he was expecting to see the industry-wide strain on hard drives increase the price or hurt availability of Apple's professional notebooks. "But I really didn't see that at all," he said.
Apple's control of its supply chain is believed to have helped the company weather the hard drive crisis with minimal impact on inventory. The only potential sign of the hard drive shortage affecting Apple came with the company's iMac all-in-one desktop, as custom orders with 2-terabyte hard drives were hit with a lengthy wait time of up to 7 weeks earlier this month. That wait time quickly improved to between 2 and 4 weeks.
As for the rest of the PC industry and its recovery from the floods in Thailand, Kubucki said there is still a long way to go. His tracking of online retailers shows the shortage bottomed out about two weeks ago, and stores are now seeing about double the inventory they had only weeks ago.