Apple's iPad has 84% satisfaction rating, 17% of users install 80+ apps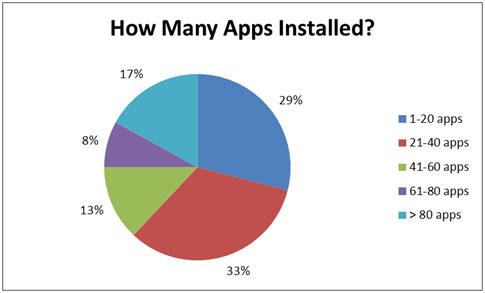 A new survey has found that an overwhelming majority of iPad owners are satisfied with their tablet from Apple, and also offers some insight into how, when and where people are using their iPad.
The survey found that 83.65 percent of respondents were satisfied with the iPad, while 62 percent ranked Apple's device as "excellent," 10 percent said "best imaginable," and 21 percent said "good."
Beyond satisfaction levels with the iPad, the survey also aimed to find out how people are using the device. The study found that 52 percent of participants reported they carry their iPad only when traveling, while 21 percent carry their iPad every time they go out, and 17 percent only carry it on them for work.
The survey also offers a glimpse at application usage amongst iPad users, and found that 17 percent of respondents reported having more than 80 applications on their iPad. Another 29 percent said they have between 1 and 20 applications installed, while 33 percent have 21 to 40 applications.
While many users have a large number of applications installed on their iPad, regular use of those applications is a bit less. Among the respondents, 35 percent said they regularly use between 1 and 5 applications, while 40 percent said they frequently use between 6 and 10. Just 4 percent said they regularly use more than 20 applications.
The survey also found that the most common place for people to use their iPad is the living room, followed by the bedroom, kitchen and dining room. The most common use is browsing the Web, followed by checking e-mail, reading news, and social networking.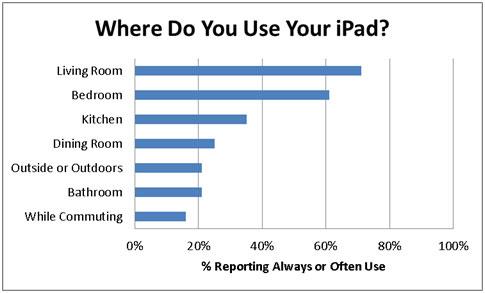 The new survey isn't the first to show evidence of high satisfaction among users with the iPad. One poll conducted soon after the first-generation iPad was released in 2010 found that Apple's new product category carried a 91 percent satisfaction rating.