AT&T expands 4G LTE to 11 new markets including NYC, San Francisco, L.A.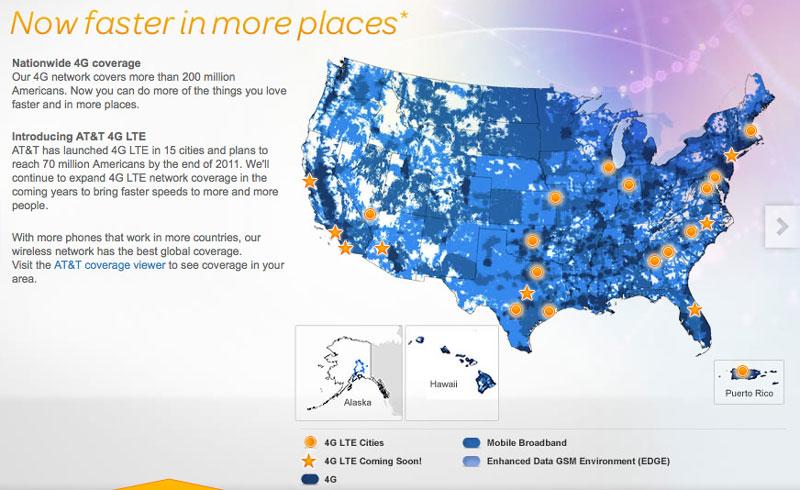 AppleInsider is supported by its audience and may earn commission as an Amazon Associate and affiliate partner on qualifying purchases. These affiliate partnerships do not influence our editorial content.
AT&T announced on Thursday that it has expanded its high-speed 4G long-term evolution network to 11 new cities, including the New York metropolitan area, San Francisco and Los Angeles.
AT&T's 4G LTE is now available in a total of 26 markets to 74 million customers. The announcement was made Thursday by John Stankey, president and chief executive officer of AT&T Business Solutions at Citi's 22nd Annual Global Entertainment, Media and Telecommunications Conference in San Francisco, Calif. The full list of 4G LTE markets recently added are:
New York City metro area
Austin, Tex.
Chapel Hill, N.C.
Los Angeles, Calif.
Oakland, Calif.
Orlando, Fla.
Phoenix, Ariz.
Raleigh, N.C.
San Diego, Calif.
San Francisco, Calif.
San Jose, Calif
"We're building a 4G LTE network that's blazing fast, and we offer dual layers of 4G technologies to provide customers with a more consistent speed experience," Stankey said. "Our network, together with our unsurpassed 4G device portfolio and innovative applications, will give our customers an industry-leading mobile broadband experience."
The latest expansion joins 15 markets that AT&T brought 4G LTE to in 2011. They are Athens, Ga.; Atlanta, Ga.; Baltimore, Md.; Boston, Mass.; Chicago, Ill.; Dallas-Fort Worth, Tex.; Houston, Tex.; Indianapolis, Ind.; Kansas City, Kan.; Las Vegas, Nev.; Oklahoma City, Okla.; San Antonio, Tex.; San Juan, Puerto Rico; and Washington D.C.
The roll-out of AT&T's LTE network has been much slower than rival Verizon, which which debuted its fourth-generation high-speed network in December of 2010 in 38 metropolitan areas and more than 60 commercial airports across the U.S. Verizon's 4G network currently covers more than 186 million Americans, while AT&T's is available to 74 million.
Speculation has suggested that 4G LTE markets and related technology in phones will be mature enough this year that Apple could offer an LTE-capable iPhone model. Last year, Apple Chief Executive Tim Cook said poor battery life and other issues with current LTE technology were not up to standard.
"The first generation of LTE chipsets force a lot of design compromises with the handset," Cook said last April, "and some of those we are just not willing to make."