Apple projected to reach 116M iPhone, 55M iPad sales in 2012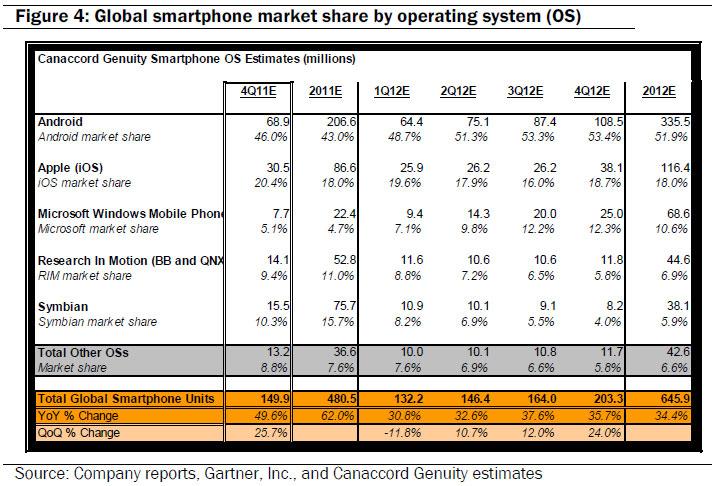 AppleInsider is supported by its audience and may earn commission as an Amazon Associate and affiliate partner on qualifying purchases. These affiliate partnerships do not influence our editorial content.
Combined iPhone and iPad sales in calendar 2012 are expected in one new forecast to reach more than 170 million in another record breaking 12-month span.
Analyst Michael Walkley with Canaccord Genuity issued a pair of research notes to investors on Friday in which he has projected how the tablet and smartphone markets will shake out over the next year. He sees 2012 being another banner year for Apple, with sales of 116.4 million iPhones and 54.6 million iPads.
He sees iOS representing 18 percent of the mobile operating system share, good for second place behind only Google's Android with 51.9 percent on sales of 335.5 million handsets. Projected sales of 116.4 million iPhones would be nearly 20 million greater than he estimates Apple sold in 2011, with conservatively estimated holiday sales of 30.5 million. Apple will officially confirm iPhone sales on Jan. 24.
"We believe Apple sold through at least (12 million) iPhone units in the U.S. market during the December quarter," Walkley wrote. "With some channel inventory built for the new 4S, we believe the U.S. market could exceed (14 million) iPhones sold into the channel during the December quarter."
In the month of December, Walkley said the iPhone 4S was the best selling smartphone at all three carriers where it is available: AT&T, Sprint and Verizon. Samsung had the No. 2 selling smartphone at all carriers, with the Galaxy S II taking second at AT&T and Sprint, while the Galaxy Nexus took second at Verizon. Apple's $99 iPhone 4 was the third-best selling handset at AT&T, while at Verizon the Motorola Droid Razr took third.
Outside the U.S., Walkley said his industry sources have indicated that Apple's iPhone is also seeing strong market share gains in countries such as Brazil and Russia. He also has high hopes for the forthcoming launch of the iPhone 4S in China.
As for the iPad, Walkley has called for Apple's market share to dip to 52.4 percent in 2012 on sales of 54.6 million. He assumes Apple closed out 2011 with total sales of 38.1 million iPads, with 13 million sold in the last quarter of the calendar year. Those totals for 2011 would represent 63.2 percent of tablets sold in the year.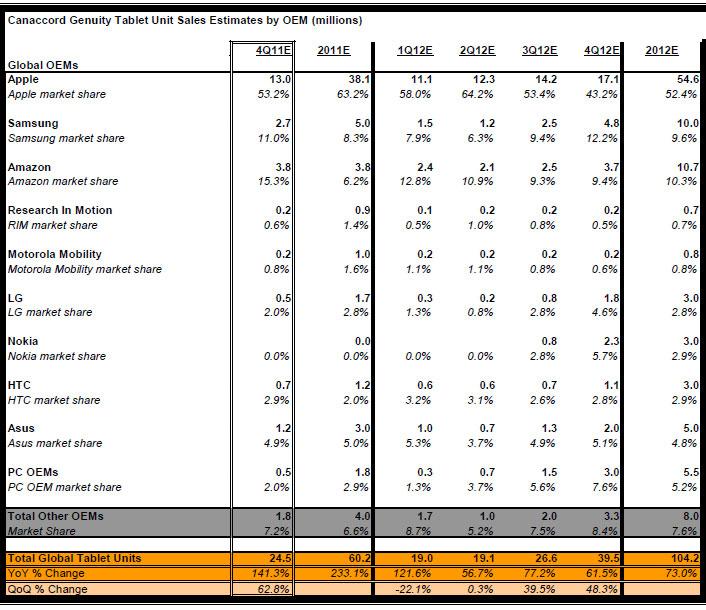 Projected to see the greatest gain in tablet market share in 2012 is Amazon, growing from an estimated 6.2 percent in calendar 2011 to a projected 10.3 percent in 2012. Samsung is also seen growing its share from 8.3 percent in 2011 to 9.6 percent in 2012, reaching sales of 10 million units over the next year.
Walkley said his industry checks have indicated that the iPad 2 is the top selling global tablet with the newly released Amazon Kindle Fire its closest competitor. He believes the main reason the Kindle Fire found initial success is because of its "materially lower price" of $199.
Canaccord Genuity continues to rank AAPL stock a "top pick" with a "buy" rating, and has maintained its price target of $560.