Android litigation seen adding 'significant value' for Apple shareholders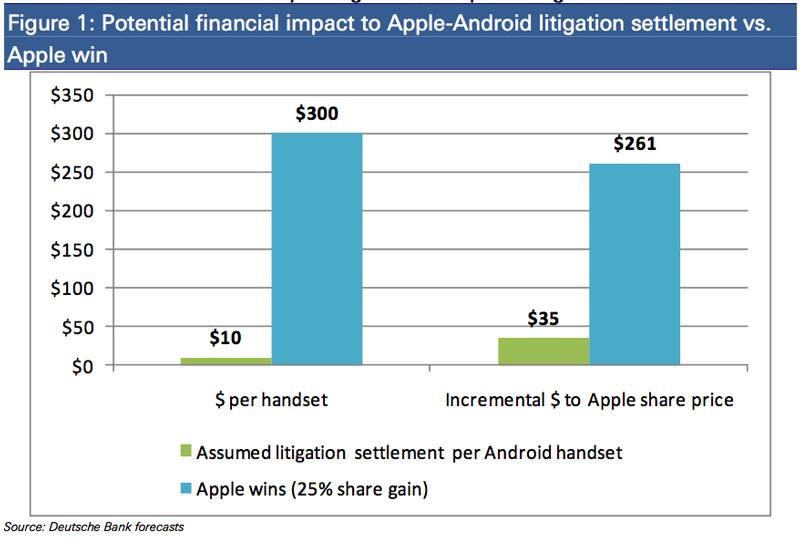 AppleInsider is supported by its audience and may earn commission as an Amazon Associate and affiliate partner on qualifying purchases. These affiliate partnerships do not influence our editorial content.
Patent infringement litigation between Apple and Android-based handset makers is viewed as a positive for AAPL shareholders, who could benefit from the company's iPhone patent portfolio with licensing deals or a potential ban on Android devices.
Analyst Chris Whitmore with Deutsche Bank issued a note to investors on Monday offering his take on continued lawsuits between Apple and Android handset makers like Samsung, HTC and Motorola. He believes that the ultimate outcome of the litigation will add "significant value" for AAPL shareholders.
Whitmore sees two potential outcomes of the ongoing litigation, both of which are favorable to Apple. Either iPhone maker obtains a licensing fee for the sale of each Android device, or Apple could secure bans on some devices and take 25 percent market share from Android.
"Under the first scenario, we believe a $10 per (software) licensing deal would accrue roughly $35 per share in value to Apple stock price," he said. "Under the second scenario, we estimate the incremental value to Apple shareholders would be 7-8 (times) higher."
Based on Apple's current stock price, Whitmore believes investors will benefit from a "free call option on a potentially very lucrative income from IP litigation." He considers it a "high probability" that Apple will monetize that value with a licensing deal which is not currently priced into the company's market valuation.
"The upside potential associated with an outright win is so large we don't expect Apple to settle anytime soon — particularly not for the $5-10 per unit number that has been speculated in the press," Whitmore said. He believes the litigation will continue well into 2013 in a "long, drawn out process."
While Apple has opted to continue its legal battles against Android, Microsoft has taken a different approach in reaching licensing deals with Android-based handset makers. It's been estimated that Microsoft receives $5 for the sale of every Android smartphone sold by HTC, while Microsoft also receives royalties from Samsung's Android smartphones.
But a potential licensing agreement obtained by Apple could be much more lucrative. One analysis detailed last month claimed that Apple could collect up to $10 in royalties for every Android device sold.
Similarly, Whitmore believes that Apple's more than 200 patents and patents pending related to multi-touch technology are "largely undervalued" on Wall Street. He also sees Apple obtaining $10 per Android handset if it wins in litigation, adding $35 incremental to the company's share price.
But licensing deals would leave a lot of potential money on the table. If Apple were to win outright and courts were to ban Android handsets or severely limit the features of Android, he sees "enormous" financial benefits for Apple, potentially adding $261 to the company's stock price.