Microsoft to receive royalties for Samsung's Android smartphones, tablets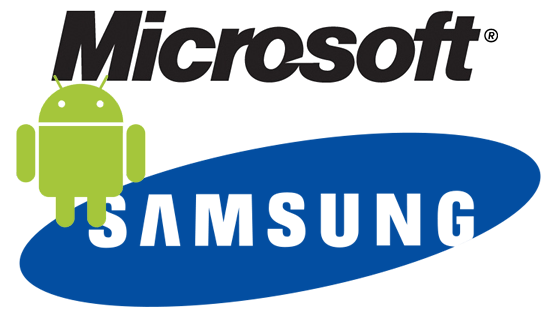 Microsoft on Wednesday announced it has entered a cross-licensing agreement with Samsung, in which Microsoft will receive royalties for smartphones and tablets sold by Samsung running the Google Android mobile operating system.
The patent licensing agreement will provide "broad coverage for each company's products," Microsoft said in a statement. The two companies also agreed to cooperate in the development and marketing of Microsoft's Windows Phone platform.
"Microsoft and Samsung see the opportunity for dramatic growth in Windows Phone and we're investing to make that a reality," Andy Lees, president of the Windows Phone Division at Microsoft said in a statement. "Microsoft believes in a model where all our partners can grow and profit based on our platform."
Details of the agreement are not known, but Microsoft has inked a deal with another high-profile Android device maker, HTC, which is said to net the Windows maker a high royalty rate of as much as $5 per device sold. Microsoft's licensing deal with HTC is so lucrative that some pundits have speculated whether the company makes more money off of Google's Android than it does its own Windows Phone 7 platform.
Prior to the announcement on Wednesday that it had inked a deal with Samsung, Microsoft had also secured licensing agreements earlier this month with Acer and ViewSonic, also related to Android.
Samsung said on Wednesday that it will continue to work with Microsoft on handsets, and that a "new chapter of collaboration" will begin this fall with the launch of Samsung smartphones running Windows Phone "Mango."
"Through the cross-licensing of our respective patent portfolios, Samsung and Microsoft can continue to bring the latest innovations to the mobile industry," said Dr. Won-Pyo Hong, executive vice president of global product strategy at Samsung's mobile communication division.
Microsoft's new licensing deal comes as Samsung is involved in a separate legal dispute with Apple, in which Apple has accused Samsung of copying the look and feel of the iPhone and iPad. Samsung has fired back with its own lawsuits accusing Apple of violating patents related to 3G wireless technology.
The patent litigation has found some early success for Apple, This month, which won a permanent ban on sales of the Samsung Galaxy Tab 10.1 in Germany, while the device has also been barred from sale in Australia. Last month, some Samsung Galaxy-branded phones were also barred from sale as a result of an Apple lawsuit.