iTunes U for iPad offers full courses, teacher updates, class enrollment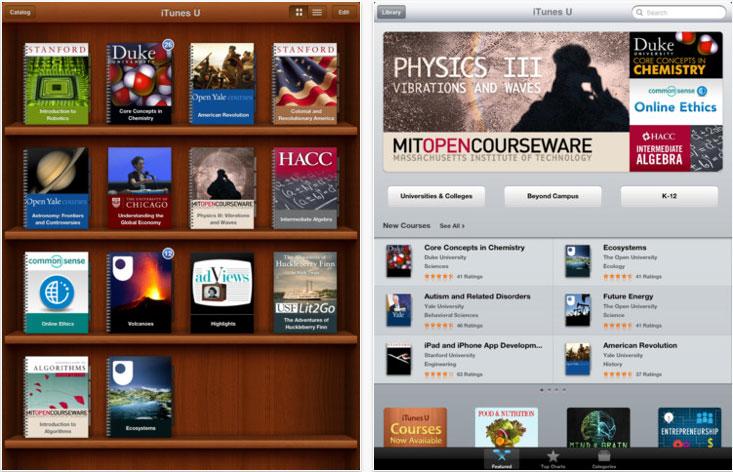 AppleInsider is supported by its audience and may earn commission as an Amazon Associate and affiliate partner on qualifying purchases. These affiliate partnerships do not influence our editorial content.
The new iTunes U application for iPad unveiled by Apple on Thursday will allow college students to view course materials, receive updates from their teachers, and even sign up for classes.
"The all-new iTunes U app enables students anywhere to tap into entire courses from the world's most prestigious universities," said Eddy Cue, Apple's senior vice president of Internet Software and Services. "Never before have educators been able to offer their full courses in such an innovative way, allowing anyone who's interested in a particular topic to learn from anywhere in the world, not just the classroom."
In its presentation to the press, Apple showed off an online course from Duke for "Core Concepts in Chemistry." In the iTunes U application, students can get an overview of the course, view teacher details, obtain the class syllabus, and even access information like the teacher's office hours.
The iTunes U application for iPad has sections for "Info," "Posts," "Notes" and "Materials." In the "Posts" section, teachers can provide updates to students, including assignments.
The assignments can even be context sensitive, allowing a student to tap on it and automatically be sent to the appropriate section of a textbook in iBooks. When an assignment is completed, it can be crossed off of the included task list.
In the "Notes" tab, users can access and modify their class notes, even highlighting certain text. And the "Materials" tab shows off all of the material for a course, including textbooks, videos, audio, and documents.
The iTunes U application will even allow students to sign up for courses from directly within the software. Courses and professors can even be rated through iTunes U for iPad.
While books and applications required for courses do have costs, the iTunes U application itself is free and now available on the iPad App Store. Participating schools that have had early access to the software are Duke, Yale, Harrisburg Area Community College, Massachusetts Institute of Technology, and The Open University.