Amended class-action lawsuit alleges Apple, publishers engaged in 'price-fixing conspiracy'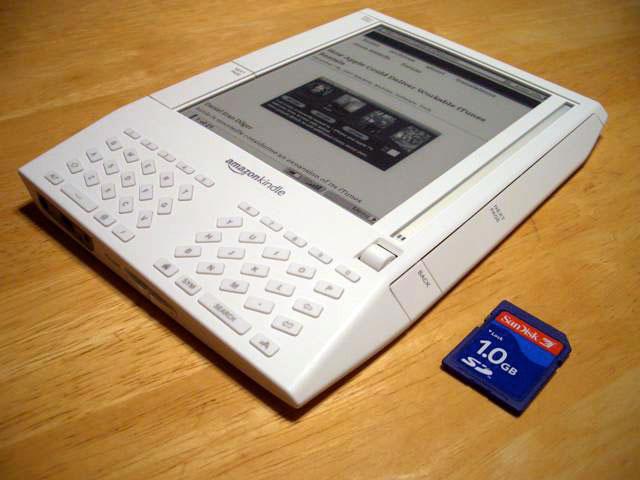 Even as Apple unveiled new partnerships with publishers focusing on ebooks and digital textbooks earlier this week, lawyers have amended a class-action lawsuit against Apple and five of the six big publishers accusing them of "deep antagonism" toward Amazon and its pricing scheme.
Law firm Hagens Berman filed the original lawsuit last August on behalf of a group of consumers who allege Apple and most of the publishing industry colluded to introduce an agency e-book pricing model for the iBookstore to disrupt Amazon's wholesale model.
HarperCollins, Hachette, Macmillan, Penguin and Simon & Schuster were named in the legal action. Random House was the only "big six" publisher left off the lawsuit, as it had elected not to sell its books using the agency model on iBooks for nearly a year before eventually caving last March.
The updated complaint, submitted Friday, contains new allegations, as well as information believed to support its case, such as quotes from late Apple CEO Steve Jobs and a number of publishing executives.
"The information we've included in this new filing shows the deep antagonism that publishers had toward Amazon for its consumer-friendly pricing," said Steve W. Berman, managing partner at the firm and lead counsel on the case. "Since we began the action last August we've uncovered statements from executives at several publishers that demonstrate they viewed Amazon as a significant threat to the long-term survival of their profitability."
Berman went on to assert that publishers took drastic and illegal action to protect their profits as their traditional business models were threatened.
"We intend to show that the big publishers saw the sea change in the delivery of books, and agreed to a price-fixing conspiracy as a last-gasp attempt to maintain profit margins," he said.
The amended complaint gathered several possibly incriminating quotes from publishing CEOs. For instance, David Young, Chairman and CEO of Hatchett Book Group, said on record in 2009 that Amazon's $9.99 e-book pricing could represent "game over" for the publishing industry if it was "allowed to take hold in the consumer's mind."
Macmillan CEO John Sargent stated in a blog post that the agency model had made the market "stable and rational" by righting a "fundamentally unbalanced" situation. Meanwhile, Hatchett executive Arnaud Noury allegedly told an Amazon executive that a small price increase of two to three dollars would alleviate the "industry" problem.
"Noury's meeting with Amazon is just one piece of a growing body of evidence that that the publishers were coordinating a plan to force Amazon to increase e-book prices, one way or another," Berman said.
The lawsuit even drew upon Walter Isaacson's biography on Jobs by including the following excerpt as supposed evidence of a price-fixing conspiracy:
Amazon screwed it up. It paid the wholesale price for some books, but started selling them below cost at $9.99. The publishers hated that — they thought it would trash their ability to sell hard-cover books at $28. So before Apple even got on the scene, some booksellers were starting to withhold their books from Amazon.
So we told the publishers, "We'll go to the agency model, where you set the price, and we get our 30%, and yes, the customer pays a little more, but that's what you want anyway." But we also asked for a guarantee that if anybody else is selling the books cheaper than we are, then we can sell them at the lower price too. So they went to Amazon and said, "You're going to sign an agency contract or we're not going to give you the books."
Given the situation that existed, that was best for us was to do this aikido move and end up with the agency model. And we pulled it off.
According to the complaint, following the release of the iPad and iBooks, the five publishers raised e-book prices by 30 to 50 percent and "completely changed the competitive pricing landscape that had existed for decades in the industry."
"As a direct result of this anticompetitive conduct as intended by the conspiracy, the price of eBooks has soared," the filing alleged. "The price of an eBook in many cases now approaches — or even exceeds — the price of the same book in paper even though there are almost no incremental costs to produce each additional eBook unit."
The lawsuit is asking for "damages for the purchasers of e-books, an injunction against pricing e-books with the agency model and forfeiture of the illegal profits received by the defendants."
From Kindle 1 to iBooks 2
Amazon made waves in November 2007 when it released its Kindle e-reader. The device was billed as the "iPod of reading" and quickly sold out. Adoption of e-books was aided by the fact that Amazon was willing to sell some titles at a loss in order to satisfy both customers' expectations and publishers' profit margins.
However, publishers chafed at Amazon's insistence on low-priced e-books. They also reportedly feared that the online retailer would eventually use its market power to reduce their share of profits for both e-book and physical book sales.
Recognizing a market opportunity, Apple stepped in to offer its upcoming iPad tablet and accompanying iBooks app as a possible alternative to Amazon. The tablet and accompanying e-reader software were unveiled in January 2010.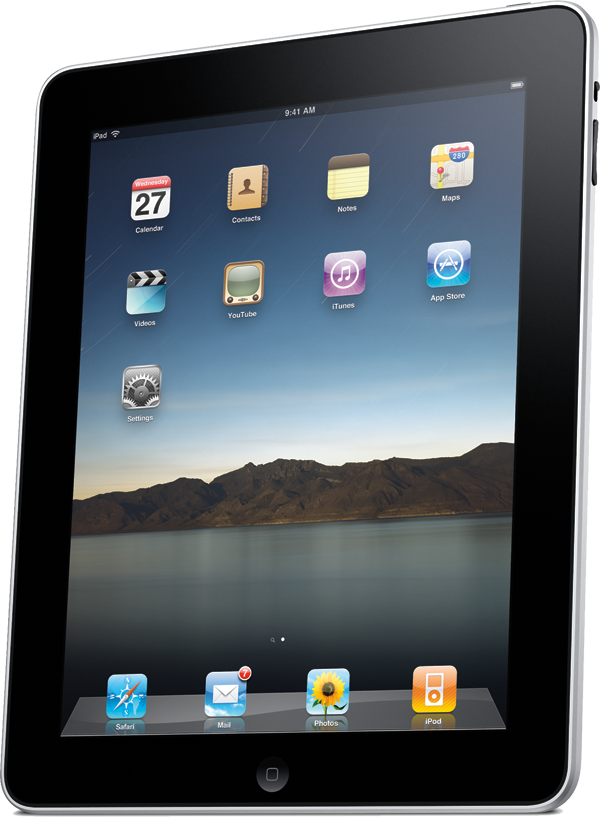 At the time, Jobs credited Amazon with pioneering the e-book market, while noting that Apple intended to improve on its model. "We're going to stand on their shoulders and go a bit further," he said.
According to one survey, 2010 e-book revenue jumped up more than 1200 percent from publishers' 2008 numbers. Net sales increased to 114 million in 2010 as the Kindle and iPad installed bases grew.
Amazon, in turn, stood on Apple's shoulders late last year to release the $199 Kindle Fire tablet. The device represented Amazon's first foray into the tablet industry, quickly selling millions of copies. The online retailer is looking to join the iPad in offering colorful, interactive and multimedia e-books.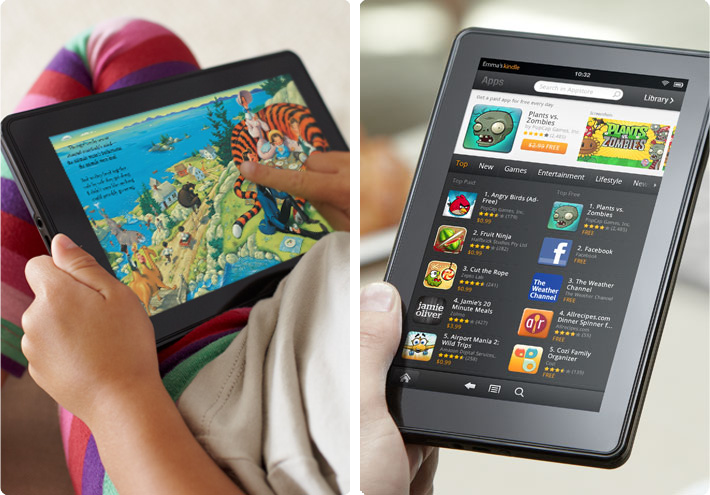 Jobs reportedly communicated to publishing executives last June that he had a vision to revolutionize the textbook industry with the iPad, but he unfortunately did not live to see it realized.
Apple on Thursday held a media event in New York City to announce several new e-book and education initiatives. The Cupertino, Calif., iPad maker released iBooks 2 with additional features for e-books. It also announced an iBooks Author tool that can create digital books to either sell on iBooks or distribute for free.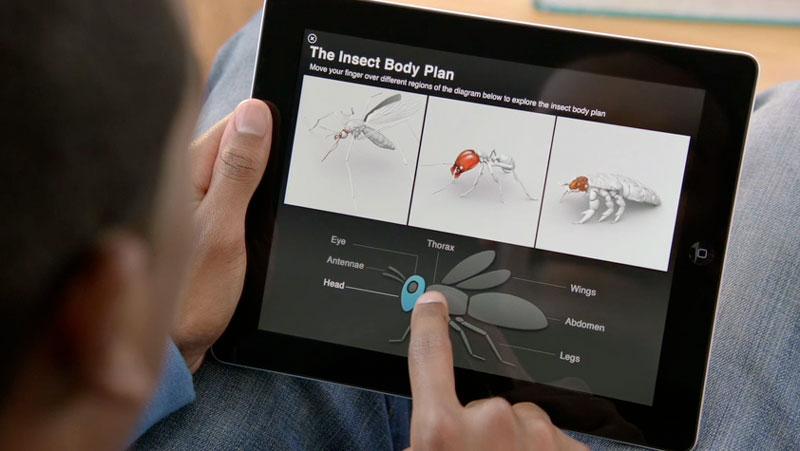 The company also succeeded in bringing the major publishers on board with its plan for interactive digital textbooks. iBooks 2 launched with several textbooks priced at $14.99 or less, a significant discount from traditional paper textbooks.