US tablet ownership nearly doubles to 19% over holidays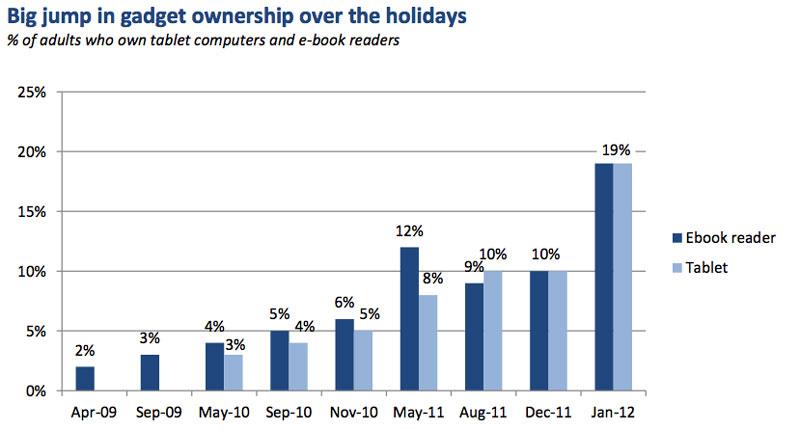 AppleInsider may earn an affiliate commission on purchases made through links on our site.
With Apple's iPad continuing to dominate the tablet market, total tablet sales in the U.S. nearly doubled to 19 percent ownership among adults after the holiday shopping season, according to a new report.
The Pew Research Center revealed its findings on Monday, showing that tablet ownership went from 10 percent of U.S. adults surveyed before Christmas to 19 percent in January of 2012. The study shows that tablets, along with dedicated e-book readers, were a hot gift this holiday season.
"These findings are striking because they come after a period from mid-2011 into the autumn in which there was not much change in the ownership of tablets and e-book readers," the research firm said. "However, as the holiday gift-giving season approached, the marketplace for both devices dramatically shifted."
The report made no mention of Apple's iPad, but suggested that Amazon's Kindle Fire and the Barnes and Noble Nook Tablet, both of which feature prices much lower than Apple's $499 entry-level iPad, played a significant role in boosting sales.
While the Kindle Fire in particular is believed to have made a splash over the holidays with its $199 price, Apple executives have said they are not concerned by Amazon's color touchscreen tablet, as they only believe it will further fragment Google's Android platform. The Kindle Fire runs a heavily modified version of Android tailored specifically for Amazon's device.
And Apple is still expected to have had a record setting quarter over the holidays, easily besting the company's previous high of 11.2 million iPads sold in the previous September quarter. One analyst suggested earlier this month that the Kindle Fire cost Apple between 1 million and 2 million iPad sales over the holidays, but also projected that Apple would report sales of 13 million iPads during the December quarter. Apple will reveal its actual iPad sales in its quarterly earnings report on Tuesday.
Pew's data shows that the tablet and e-reader market has grown considerably in just the last few months. The number of Americans owning at least one of those devices jumped from 18 percent in December to 29 percent in January.
Tablet ownership was particularly notable in households earning more than $75,000, where it reached 36 percent presence in January. And 31 percent of households with college educations or higher also own a tablet of some type.
The data released on Monday was based on surveys of 2,986 people conducted from Nov. 16 to Dec. 21, and two surveys in January, each of more than 1,000 adults. The overall margin of error in the December poll was +/- 2 percentage points, while the Jan. 2012 data is +/- 2.4 percent.