Best Buy customer survey details 42-inch Apple HDTV with iOS for $1499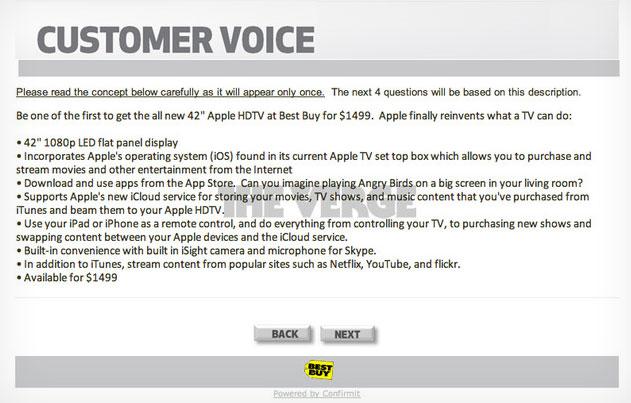 Whether it's inside knowledge of a future product or purely speculation, electronics retailer Best Buy has made mention in a survey of a 42-inch high-definition Apple television set powered by iOS priced at $1,499.
The questionnaire notes that the Apple HDTV "finally reinvents what a TV can do," with a 1080p LED flat panel display, connectivity with iCloud, and the ability to use an iPhone or an iPad as a remote control. The "Customer Voice" survey from Best Buy was revealed by The Verge.
But the survey also makes mention of an "iSight" camera included in the anticipated television set, suggesting the details are simply speculation on the part of Best Buy. Since introducing FaceTime video chat, Apple has referred to its forward-facing cameras as FaceTime cameras, not iSight.
Another hit to the credibility of the survey comes in its mention of an integrated microphone, which the listing claims can be used for Skype, rather than FaceTime, Siri, or any other voice-enabled features built by Apple itself.
The survey was reportedly administered by Confirmit, a Norwegian research firm that Best Buy uses as a client. The full details from the survey follow:
Be one of the first to get the all new 42" Apple HDTV at Best Buy for $1499. Apple finally reinvents what a TV can do:
42" 1080p LED flat panel display
Incorporates Apple's operating system (iOS) found in its current Apple TV set top box which allows you to purchase and stream movies and other entertainment from the Internet
Download and use apps from the App Store. Can you imagine playing Angry Birds on a big screen in your living room?
Supports Apple's new iCloud service for storing your movies, TV shows, and music content that you've purchased from iTunes and beam them to your Apple HDTV.
Use your iPad or iPhone as a remote control, and do everything from controlling your TV, to purchasing new shows and swapping content between your Apple devices and the iCloud service.
Built-in convenience with built in iSight camera and microphone for Skype.
In addition to iTunes, stream content from popular sites such as Netflix, YouTube, and flickr.
Available for $1499.
The details of the Best Buy survey surfaced soon after a report last week said that the first prototypes of a full-fledged Apple television set are "in the works." Analyst Gene Munster with Piper Jaffray said a "major TV component supplier" told him that Apple had contacted them regarding various TV display components.
Rumors have suggested Apple plans to unveil its anticipated television set later this year, and that the hardware will feature Siri voice control, allowing users to easily navigate the device and access content without the need for a clunky, confusing remote control.
Reports of an Apple television began to pick up steam late last year when the authorized biography of late Apple CEO Steve Jobs was released. Jobs told his biographer, Walter Isaacson, that he had "cracked" the secret to building an integrated, easy-to-use television set. He said the device "will have the simplest user interface you could imagine."
Jobs told Isaacson that the television market was one of three that he wanted to reinvent, along with digital photography and textbooks. Last month, Apple unveiled its initiative to reinvent the textbook with interactive titles on iBooks 2 for iPad.