Apple seen taking 5% of HDTV market, earning $17B in revenue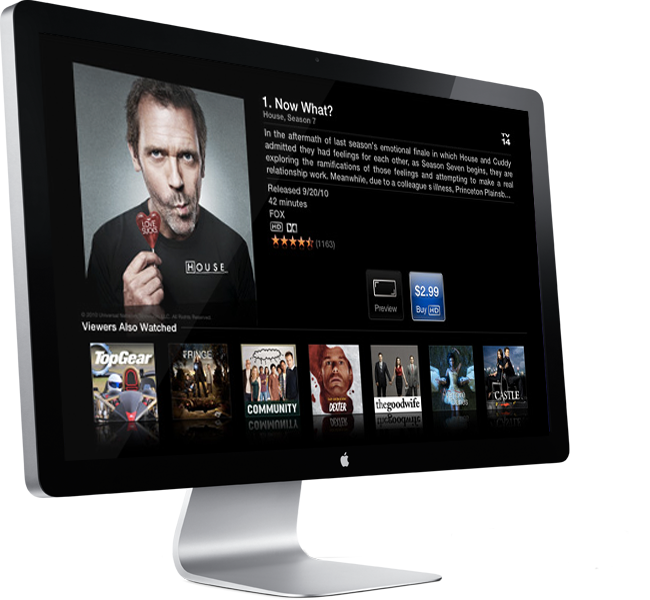 AppleInsider may earn an affiliate commission on purchases made through links on our site.
If Apple were to offer high-definition television sets with an average selling price of $1,500, one Wall Street analyst believes the company could capture 5 percent of the market and earn $17 billion in revenue.
Ben A. Reitzes with Barclays Capital calculates that the LCD market will reach about 230 million units in calendar year 2012. He suggested that Apple could, over time, capture 5 percent of that market and earn $17 billion in revenue, which would be almost 10 percent of his fiscal 2013 estimate of $183.1 billion for the company.
With assumed gross margins of around 40 percent on a full-fledged Apple television set, he sees the company gaining about $5.40 earnings per share, or about 11 percent of his fiscal 2013 EPS estimate of $48.46.
"Apple's eventual television could be so much more than a TV — including gaming, video, communication, content delivery, apps, computing and all the capabilities of the current Apple TV — it is not really fair to compare it to products already available on the market," Reitzes wrote.
His note to investors was issued soon after a Best Buy survey polled customers for their thoughts on a hypothetical Apple television set. The speculative survey questions described a 1080p LED flat panel display offering connectivity with iCloud and the ability to use an iPhone or iPad as a remote control for $1,499.
Reitzes is confident that the living room is Apple's next major target in the consumer electronics space, but he's not sold on the rumored television set launching in 2012. This year, he believes Apple will continue to focus on its next generations of iPads and iPhones.
Instead, he thinks Apple is more likely to launch a television set in fiscal 2013. Apple's next fiscal year begins in October.
"It appears more and more likely that the company is actively engaging partners about a potential device and content," he said. "If Apple were to sell a TV, we continue to believe its margins and pricing could be industry leading given its vertical integration with content. We believe that Siri could be used as a groundbreaking interface for TV,which could be used as a content hub — glued together by iOS and iOS devices."
The note from Reitzes also comes on the heels of a rumor from The Globe and Mail, which received information from an anonymous source on Monday that Canadian telecommunications companies Rogers and Bell Canada allegedly have an early version of the Apple television set in their labs. It was said that the content carriers are in negotiations to enter into a partnership for the device, which some have referred to as the "iTV."
Separately, another analyst report highlighted by AppleInsider on Monday also named Rogers and Bell as potential partners for Apple, along with AT&T and Verizon. Peter Misek with Jefferies said he thinks it's most likely that Apple will forge partnerships with existing cable operators for video content, and use that to supplement the offerings available on its iTunes Store.