Apple now worth more than Google and Microsoft combined [u]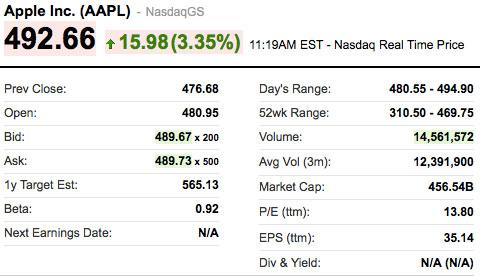 First on AI: Apple's stock soared to new heights on Thursday, pushing the company's market capitalization to $456 billion, a number that is greater than the values of rivals Google and Microsoft combined.
As of Thursday morning, Microsoft's market cap was around $256.7 billion, while Google was valued at around $198.9 billion. With Apple's stock up more than 3 percent in morning trading, the company surpassed the combined totals of both Google and Microsoft.
The milestone comes soon after Apple reported its best quarter ever, earning $13.06 billion on sales of 37 million iPhones, 15 million iPads and 5.2 million Macs. Total revenue for Apple's holiday quarter was $46.33 billion.
But Google's shares fell more than 9 percent last month after the company missed expectations on Wall Street for both earnings and revenue. And while Microsoft met Wall Street expectations, revenue from its Windows operating system fell 6 percent to $4.74 billion.
Apple's market capitalization passed Microsoft alone in May of 2010 when the iPhone maker's value hit around $222 billion. And last August was the first time that Apple passed Exxon to become the world's largest company by market cap, then with a value of $346.74 billion.
As of Thursday morning, Apple was well ahead of Exxon Mobil, which had a market cap of around $402 billion. That put Apple at a value of more than $50 billion more than the oil giant.
With AAPL stock north of $490, some Wall Street analysts on Thursday began increasing their price targets for the iPhone maker. Charlie Wolf with Needham & Company upped his estimate from $540 to $620, while Mike Walkley with Canaccord Genuity raised his target on AAPL shares even higher, to $665.
Update: Fortune has posted a few comparative metrics to AAPL's valuation and finds that the company is now worth more than the gross domestic product of Sweden ($458 billion), all the gold in the Federal Reserve ($350 billion), and more than 2.5 Apollo space programs ($145-$170 billion apiece), among others.