Retailer slashes iPad 2 price by $70 ahead of 'iPad 3'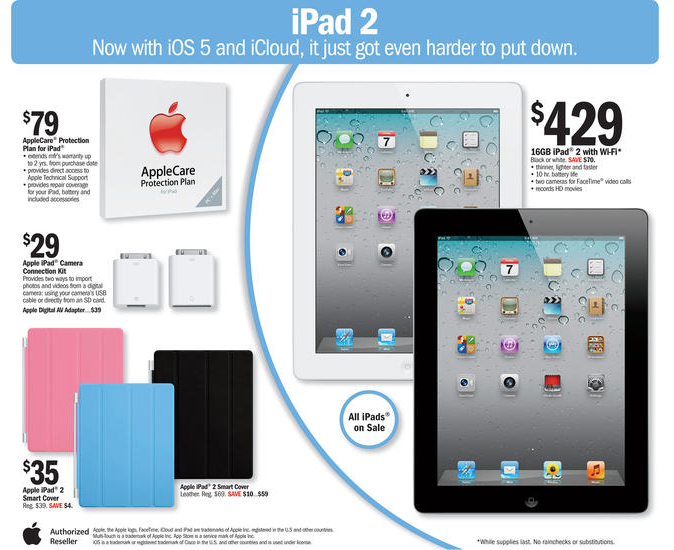 Meijer, a regional big-box retailer in the U.S., has slashed the in-store price of the 16GB iPad 2 with Wi-Fi by $70, even as Apple's third-generation tablet is expected to hit the market within weeks.
The chain announced the sale in its weekly ad for the week of February 12 - 18, noting that it runs only while supplies last and does not include rain checks or substitutions. A separate listing on the company's website lists the $429 price as lasting until Feb. 25 and notes that the iPad 2 deal is only available in stores.
The Smart Cover iPad 2 accessory is also on sale for $35, $5 off Apple's price. In addition, Meijer is offering a free $15 iTunes gift card with the purchase of an 8GB iPod touch for $195 this week.
Meijer is a Michigan-based supermarket chain that has been credited with popularizing the "supercenter" retail concept. The bulk of the company's stores are in Michigan, though it also has locations in several other surrounding states.
The $70 off sale is one of the steepest discounts for the iPad 2 since the device was released last March. For instance, Best Buy offered $45 off all iPad 2 models last year ahead of the Black Friday retail frenzy. Apple itself offered between $41 and $61 off during its own Black Friday promotion.
Given that recent reports have pegged the first week in March as the likely time frame for the launch of the third-generation iPad, Meijer's deal could be viewed as an effort to clear out inventory before the new devices arrive.
Apple's next tablet is widely expected to have a high-resolution Retina Display with double the pixel density as the current model, as well as a significantly faster A6 processor. Some reports have also suggested that Apple could make the jump to 4G with the release of an LTE-capable iPad next month.