iPad 2 trade-ins fetch up to $320 in Apple's official recycling program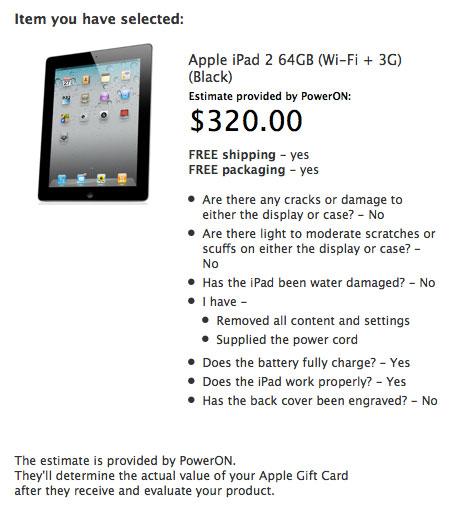 Apple has expanded its official Reuse and Recycling Program to accept trade-ins of the iPad 2, which will net users gift cards valued at up to $320 in exchange for the most expensive model.
Prices for the iPad 2 through Apple's trade-in program start at $205 for a 16-gigabyte Wi-Fi-only model in good condition. The highest possible trade-in value is for the 64-gigabyte 3G model in good condition, which is worth a $320 gift card.
Customers who want to trade in their iPad 2 to Apple must fill out a questionnaire about the condition of the device. The iPad is then mailed out in a prepaid package for evaluation.
Apple's trade-in program is done through PowerON, a company that estimates the fair market value of the product. PowerON also handles the shipping and evaluates the trade-ins at their own facility.
After the iPad 2 has been received and verified to be in the condition stated on the questionnaire, customers will receive their Apple Gift Card in the mail, and it can be used at any Apple Retail Store or the company's online store.
Trade-in values for the iPad 2 through Apple's program are as follows:
16GB Wi-Fi: $205
32GB Wi-Fi: $245
64GB Wi-Fi: $275
16GB 3G: $250
32GB 3G: $280
64GB 3G: $320
While it's another option for customers looking to upgrade from the iPad 2 to the new iPad, Apple's recycling program doesn't offer quite as much as some other options on the Internet. For example, those who trade in at Amazon can receive $300 for a 16-gigabyte Wi-Fi-only iPad 2, while a perfect-condition high-end 64-gigabyte model with AT&T 3G connectivity has a trade-in value of $460 in Amazon gift cards.
The trade-in specialists at Gazelle also offer $260 for a Wi-Fi 16-gigabyte iPad in "flawless" condition, while an unblemished 64-gigabyte AT&T 3G model is worth $370 in trade-ins.