Apple stock closes past $600 milestone for first time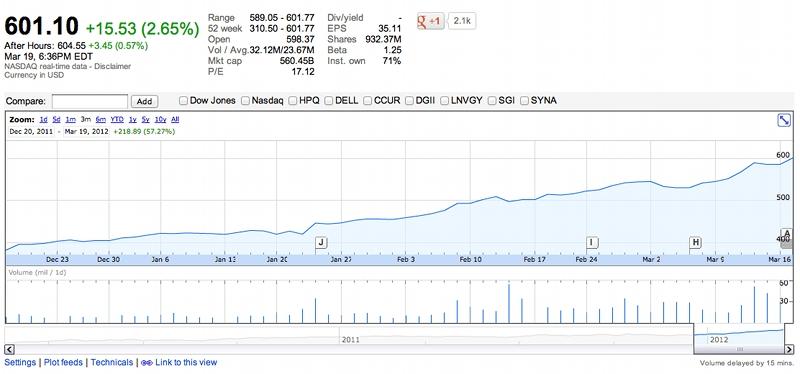 Riding on a stock incentives plan and reports of record third-generation sales, Apple stock on Monday finally surged past the once elusive $600 barrier it has been tickling for the past few days.
After days of passing $600 intraday prices, only to fall back below the mark by the close of trading, Apple shares received a $15.53 bump which represented a 2.65 percent on Monday to finish at $601.10 for the first time in company history.
Apple stock has seen a meteoric rise, and has gained over 200 points since the end of December 2011.
The watershed price was fueled in part by an announcement earlier in the day in which CEO Tim Cook revealed that the company will be using part of its $100 billion in cash to offer a quarterly dividend of $2.65 per share and initiate a stock buyback program. The dividends are scheduled to kick in during Apple's fourth fiscal quarter of 2012, which begins on July 1. Both initiatives are expected to cost the company $45 billion over the next three years.
Another factor driving the bump in price per share was Cook's statement regarding the record-setting launch weekend enjoyed by Apple's third-generation iPad.
It was revealed after the markets closed on Monday that since the tablet's March 16 launch date, some 3 million new iPads were sold by Apple's retail stores and authorized resellers. The number does not include pre-orders made through Apple's online store, which were reportedly so voluminous that shipping companies were having trouble keeping up with deliveries on launch day.
Apple stock has enjoyed a steady rise, and is now worth over $600 per share. | Source: Google Finance