Apple CEO Tim Cook visited new Foxconn iPhone plant during China trip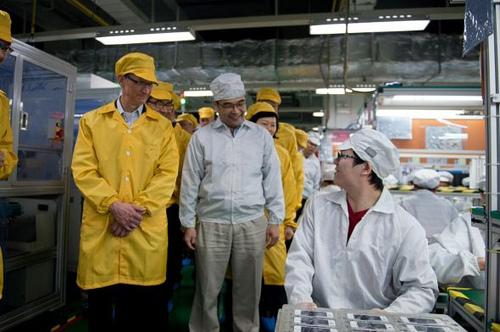 Apple CEO Tim Cook visited an iPhone production line at a Foxconn plant in Zhengzhou, China, the company confirmed on Wednesday.
Carolyn Wu, a spokeswoman for the Cupertino, Calif., company, told Bloomberg in an e-mail on Thursday that Cook had stopped by the new facility. Foxconn employs 120,000 people at the factory, according to Wu.
Cook was first spotted in China at a local Apple store earlier in the week. The company then confirmed that he had been meeting with Chinese officials.
"China is very important to us and we look forward to even greater investment and growth here," the company said.
The Wall Street Journal reported on Wednesday that state media showed Cook meeting with Vice Premier Li Keqiang to discuss "intellectual-property issues and greater cooperation."
The executive's visit to an iPhone production line comes as Apple has come under fire for working conditions at its suppliers' factories. A series of reports on Apple and Foxconn earlier this year stirred up a debate about labor rights in China.
Cook reportedly called allegations that Apple had been aware of rights abuses for years without doing anything about them "patently false and offensive." "We care about every worker in our worldwide supply chain," he said in a letter to employees.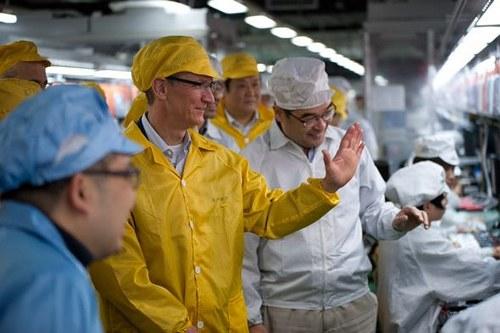 Apple CEO Tim Cook touring an iPhone production line at a Foxconn plant in Zhengzhou, China, via MIC Gadget.
The ensuing media frenzy was temporarily exacerbated by false claims by monologue artist Mike Daisey that were aired on the popular radio show "This American Life." The program later retracted the episode after Daisey admitted to having made up large parts of his story. The artist has since apologized to his audiences for violating their trust.
Earlier this year, Apple announced that it had become the first technology company to join the Fair Labor Association. Though the company performs its own audits for its Supplier Responsibility group, it has engaged the FLA to independently verify working conditions at its partner's facilities.