Apple CEO spotted in Beijing amid rumors of further investments in China [u]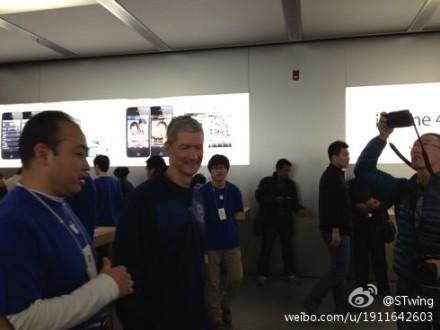 Apple Chief Executive Tim Cook, in his first trip to China since taking the reins from late company co-founder Steve Jobs, met with Chinese government officials on Monday to discuss plans to further expand operations in the country.
According to a report from The Wall Street Journal, Apple spokeswoman Carolyn Wu said Cook "had great meetings with Chinese officials today," adding that "China is very important to us and we look forward to even greater investment and growth here."
The nature of Cook's visit to China is unclear as Wu did not comment on the specifics of the meetings or the names of those officials who attended.
It is possible that the Apple executive may be in talks with representatives from the world's largest wireless carrier China Mobile, a state-run telecommunications company, over a next-generation iPhone. Last year, Cook was reportedly spotted at the carrier's headquarters in Beijing, though at the time he was Apple's chief operating officer. More than 15 million subscribers are currently using the iPhone on China Mobile, despite the lack of official support for the device.
Recent reports claim Apple's handset could arrive on China Mobile late this year or early next year and the carrier's officials are believed to be "aggressively negotiating" with Apple.
In a separate report, people familiar with the matter speculate that Cook may be in China to discuss the sixth-generation iPhone with China Unicom and China Telecom, the company's two carrier partners in the country.
Apple CEO Tim Cook visiting the Xidan Joy City Apple Store in Beijing, via STwing.
Following Monday's meetings Cook, who has been dubbed "Captain Cook" in Chinese, was later seen visiting the Joy City Apple Store in the Xidan area of Beijin and user STwing of Chinese micro-blogging service Sina Weibo managed to snag a picture at around 11:00 a.m., notes TechNode. First opened in 2010 with the Chinese launch of the iPhone 4, the Joy City location has since become Apple's top retail outlet in terms of consumer traffic and transaction volume.
As sales in the country have taken off, Apple has increasingly turned its attention toward China. The region became the company's second-largest market last year, behind only the U.S. According to Cook, Apple still has plenty of room for growth there.
One analysis last November pegged China as having overtaken the U.S. to become the world's largest smartphone market. Another study emerged last week declaring that the country now leads the world in iOS and Android device activations.