'World's biggest' Apple retail store coming to Dalian, China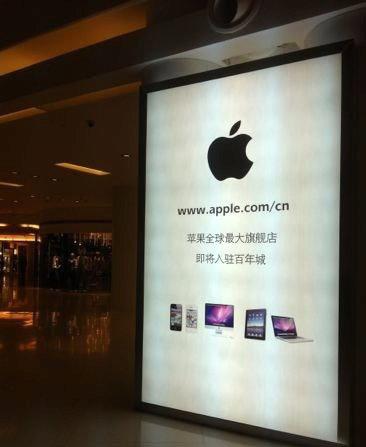 AppleInsider may earn an affiliate commission on purchases made through links on our site.
A mall in Dalian, China, has begun advertising that the "world's biggest" Apple Store is set to open in the near future.
The new store will be located at Parkland Mall in Dalain, which is a "rich Chinese city with a lot of investment coming from Korea and Japan," according to MIC Gadget. Details on Apple's new store, including its exact size, remain unknown, but banners promoting its upcoming opening can now be found at the mall.
Some of the banners put up by Apple actually caused a scuffle, as a competing department store allegedly sent a security team to knock over displays that Apple had set up outside of Parkland Mall. Security guards were hired in an effort to prevent the incident, but the banners were eventually taken down in what was called a "ridiculous" dispute.
A more permanent fixture remains located inside Parkland Mall, which reads: "Apple's World's Biggest Flagship Store will be soon coming to Parkland Mall."
"Parkland Mall is actually one of the largest shopping centers in Dalian, and it is a must-visit shopping center if you are a fan of popular brands," the report said. "On the first floor of the Parkland Mall, where the Apple flagship store will be located, there are stores such as Starbucks, Emporio Armani and Burberry."
The current largest Apple retail store in the world, by square feet, is the Grand Central Terminal store located in New York City. It's a 23,000-square-foot store in a prime location that an estimated 700,000 people pass through every day.