Most of estimated 21M iOS devices in China concentrated in urban areas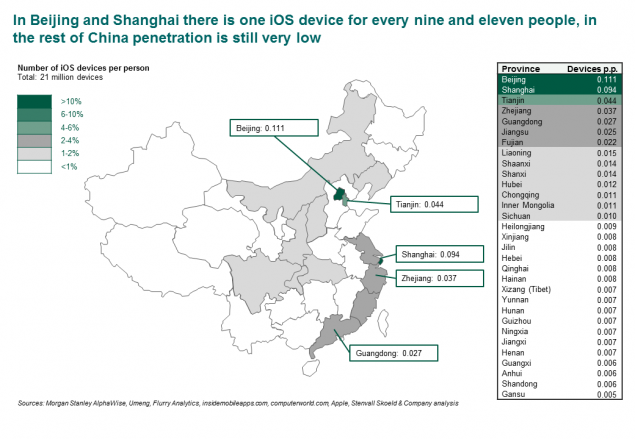 A new analysis estimates that there were 21 million iPhones and iPads in China by the end of 2011 and notes that Apple appears to have reached an approximately 10 percent penetration rate with iOS in the country's biggest urban centers.
Stenvall Skoeld, a "strategic advisory firm" focusing on China, released a report (via The Next Web) late last week estimating Apple's penetration levels across geographic regions in the country. The analysis combined the firm's own intel with data from a variety of sources, including Morgan Stanley, Flurry Analytics and Umeng, a Chinese mobile research company.
According to the report, more than half of all iOS devices in China are located in a handful of provinces and cities. Guangdong province was listed as having the most iOS devices at 13.42 percent, followed by Beijing with 10.38 percent. Shanhai, Zhejian and Jiangsu rounded out the top five. The western province of Tibet was estimated to have the lowest share of iOS devices at .10 percent.
Apple is believed to have reached a penetration rate of 11 percent in Beijing and 9.4 percent in Shanghai. Tianjin was the third-most penetrated city with a rate of 4.4 percent, according to the report.
Flurry recently declared China as the global leader in iOS and Android device activations. A separate analysis late last year named China as having passed the U.S. to become the world's largest smartphone market.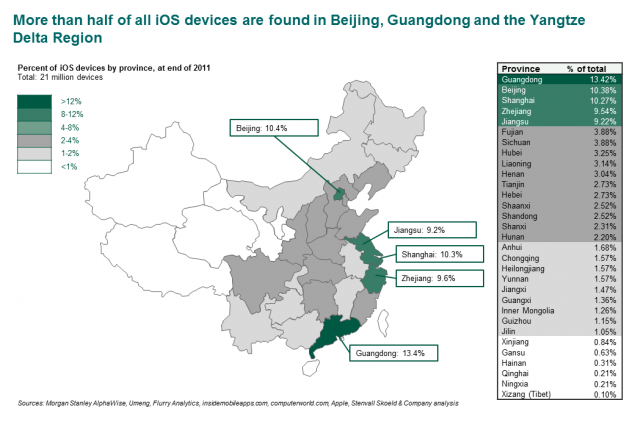 The number of iOS devices in China may actually be much higher than Stenvall Skoeld reports, as China Mobile claims to have 15 million iPhone users on its network in spite of the fact that the carrier does not officially sell the device.
Apple has indicated in the past that the Chinese market is a key focus area for the company. Apple CEO Tim Cook said last year that the iPhone maker is "just scratching the surface" in the region.