Australian government, Apple can't reach deal on branding of 4G LTE iPad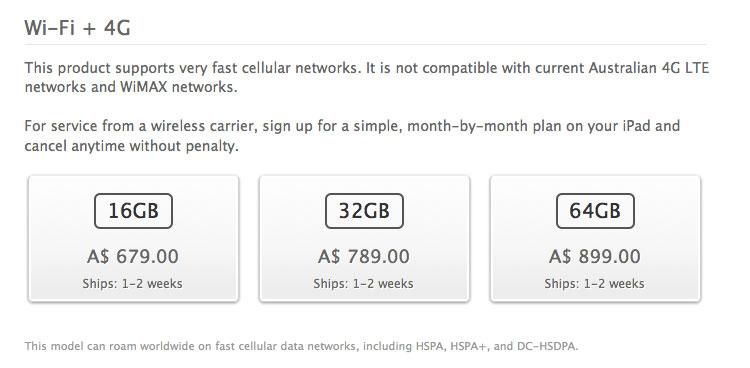 AppleInsider is supported by its audience and may earn commission as an Amazon Associate and affiliate partner on qualifying purchases. These affiliate partnerships do not influence our editorial content.
Apple and the Australian Competition and Consumer Commission tried and failed on Monday to mediate a dispute over the naming of the new 4G LTE-capable iPad.
The ACCC believes the branding of the device as "iPad Wi-Fi + 4G" in Australia is misleading to consumers because the new iPad cannot access any 4G LTE networks in Australia. As a result, the commission is trying to have Apple rename the device.
But so far, the company has refused the ACCC's requests, according to The Sydney Morning Herald. Apple and the ACC took part in a mediation on Monday, but the two sides were not able to broker a deal during those discussions.
Because no deal was reached, there will be a hearing with Justice Mordecai Bromberg of the Federal Court in Melbourne. Though the two sides came to terms on other matters, the name of the new 4G-capable iPad remains a sticking point between Apple and the ACCC.
In March, the government watchdog group accused Apple of "misleading" customers into thinking its newest iPad runs at fast 4G LTE speeds in Australia, while LTE connectivity for the device is actually restricted to North America.
"The ACCC alleges that Apple's recent promotion of the 'new iPad with WiFi + 4G' is misleading because it represents to Australian consumers that the product 'iPad with WiFi + 4G' can, with a SIM card, connect to a 4G mobile data network in Australia, when this is not the case," the ACCC said in a statement
Apple quickly complied with the ACCC by updating its online store in Australia with more prominent text informing consumers that the 4G version of the new iPad does not work with LTE networks in Australia. The company also sent out an e-mail to Australian customers offering them a full refund if they are unhappy with their new iPad.
But the device is still advertised in the Australian Apple store as a model featuring "Wi-Fi + 4G." The note accompanying the new iPad on the store states that while it connects to "very fast cellular networks," it is "not compatible with current Australian 4G LTE networks and WiMAX networks."