Samsung pegged as top mobile, smartphone vendor in March quarter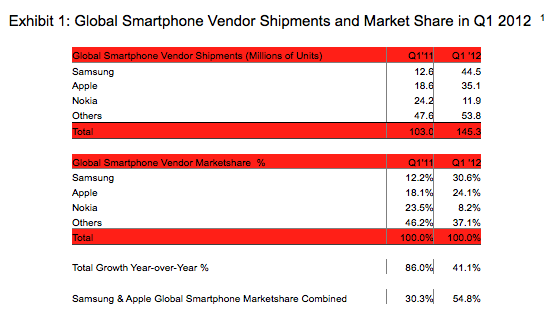 After Samsung confirmed record earnings for the March quarter on Friday, a set of new analyses estimate that the company overtook Apple to become the world's largest smartphone vendor while simultaneously passing long-time leader Nokia for the top spot among global mobile phone vendors.
Strategy Analytics issued its latest research late Thursday, noting that Samsung and Apple combined to take more than half of all global smartphone shipments for the first time ever. The South Korean handset maker accounted for an estimated 31 percent of the market, while Apple's share was believed to be 24 percent.
"Samsung and Apple are outcompeting most of their major rivals and the smartphone market is at risk of becoming a two-horse race," said Neil Mawston, executive director at the research firm.
Overall, smartphone shipments grew 41 percent year over year to 145 million units, according to the research. Nokia came in third with estimated shipments of 11.9 million smartphones.
Earlier on Thursday, Samsung confirmed its original estimates of record profits for the March quarter. It posted profits of 5.85 trillion won ($5.2 billion), the bulk of which came from its mobile division.
According to Strategy Analytics, those sales were enough to recapture the smartphone crown from Apple. The two companies have been in fierce competition over the title, and Apple reportedly beat out Samsung in the holiday 2011 quarter on the strength of the iPhone 4S launch.
Numbers are rounded | Source: Strategy Analytics
For its part, Apple reported earlier this week that it had sold 35.1 million during the first quarter of calendar 2012. Samsung declined, however, to provide mobile phone shipment figures for the quarter.
The smartphone race between Apple and Samsung is expected to heat up even further next week when Samsung unveils its new Galaxy S smartphone. Though the specifics of the third-generation Galaxy S remain unclear, the company did reveal that it will pack a quad-core Exynos 4 Quad processor.
Strategy Analytics also released its analysis of the smartphone market for the first quarter of 2012. Mobile phone shipments were estimated at 368 million units during the quarter, up 3 percent annually.
According to the firm's research, Samsung for the first time unseated Nokia to become the world's largest mobile phone vendor. Samsung had spent years chasing its rival from the No. 2 spot.
"Five years after it captured the number-two spot from Motorola, Samsung has finally become the world's largest handset vendor in volume terms," said Alex Spektor, associate director at Strategy Analytics.
Finnish handset maker Nokia saw shipments drop 24 percent year over year to 82.7 million units last quarter. The company had reigned the mobile market for 14 years before being bested by Samsung.
As for Apple, shipments of 35.1 iPhones gave the company a record 9.5 percent of global shipments during the period. Strategy Analytics director Tom Kang said he expects Apple to "grow further" in the second quarter, but he cautioned that the release of Samsung's Galaxy S3 smartphone could stymie sales if the device is "well-received by operators and consumers."