iPhone 'just getting started in China,' Apple could reach 35M sales in 2013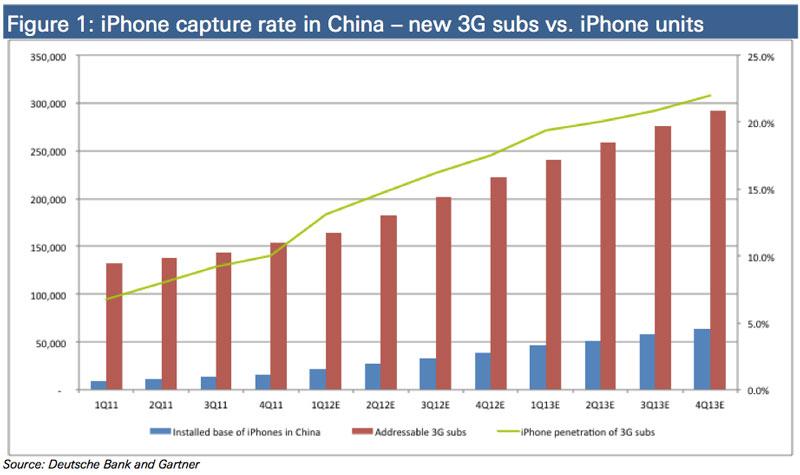 Apple has "enormous" potential to grow its sales in China, as one new estimate predicts Apple will sell 25 million iPhones there this year, and sales will grow to at least 35 million in 2013.
The estimates come from Chris Whitmore of Deutsche Bank, who believes that the iPhone is "just getting started in China." He expects China Telecom and China Unicom — Apple's two carrier partners in China — to approach 300 million 3G subscribers by the end of 2013.
If Apple adds China Mobile as a partner, as it has been rumored to do for some time, the iPhone maker's addressable market in China would increase by about 125 million 3G subscribers in 2013, bringing the total number of potential customers to nearly 425 million.
Whitmore estimates that Apple sold between 6 million and 6.5 million iPhones in the first quarter of calendar 2012, representing about 15 percent of its current addressable market. But he also believes that iPhone momentum will slow slightly in China over the coming months as the life cycle of the latest-generation iPhone 4S continues.
However, over the next few years, he believes Apple will benefit from the coming growth of 3G subscribers from China Telecom and China Unicom. If Apple were to grow its penetration of the potential subscriber base to between 20 and 25 percent, he estimates iPhone sales in China would be around 35 million in 2013 — and that's without a potential partnership with China Mobile, the largest carrier in the world.
Though China Mobile is not an official carrier partner with Apple, the company does have 15 million iPhone users on its network. Subscribers who use the iPhone with China Mobile cannot reach 3G wireless speeds because the carrier's TD-SCDMA network is not compatible.
Currently, the dominant handset vendor in China is Samsung, which has a 28 percent share of the market. Nokia is the second-largest vendor in China with a 23 percent share, followed by Huawei (15 percent) and ZTE (13 percent), while Apple comes in fifth with just 9 percent.
Apple's sub-10-percent market share in China compares to the company's 43 percent share of smartphone sales in North America, demonstrating the huge potential for growth Apple has not only in China, but in the entire Asia-Pacific region.
"We believe the iPhone is extremely well positioned to capture the tremendous growth in China and long-term opportunity for the iPhone in this market is substantial," Whitmore wrote in a note to investors on Monday.
With a possible China Mobile deal and an anticipated sixth-generation iPhone launch in the future, Deutsche Bank has reiterated its "buy" rating for AAPL stock, with a price target of $650.