JP Morgan: Apple television unlikely to arrive in 2012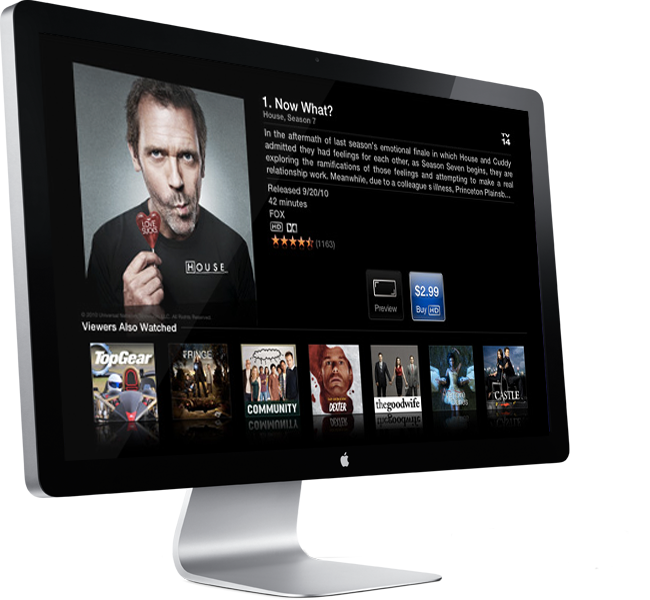 AppleInsider is supported by its audience and may earn commission as an Amazon Associate and affiliate partner on qualifying purchases. These affiliate partnerships do not influence our editorial content.
Investment bank J.P. Morgan has poured cold water on speculation that Apple will release a connected television set later this year, while simultaneously offering its own speculation that the company may introduce an "iPay" mobile payment platform.
Analyst Mark Moskowitz said on Thursday in a note to investors obtained by AppleInsider that the firm's research "does not indicated any looming TV-related product launch." He also expressed belief that the economic conditions are not right for Apple to release a television this year.
According to the analyst, the TV industry is experiencing "strained" economics, despite the fact that several television makers offer "suitable" solutions.
"We are not sure that the Apple premium could prevail in the TV market, unless there is a radical change of the user interface, integration of the TV programming and data content, and use of gesture or voice control," he said.
Though Moskowitz expressed skepticism about an upcoming HDTV from Apple, he did note that the firm sees Apple as the company to "radically alter the TV landscape" if it's going to happen.
The analyst believes Apple may take a slower, more evolutionary approach to breaking into the home entertainment market. J.P. Morgan said it believes Apple "has the ability to deliver a differentiated home entertainment solution" independent of separate "game-changing content-related deals" that would need to be negotiated.
"Enhanced-content offerings could augment Apple's TV solution but are not a necessity for Apple to be successful in the living room, in our view," he said.
Instead, Moskowitz put forth "tight integration of hardware and software, industrial design, and ease of use" as equal, if not more important, factors for the company's success in the living room. Those factors, rather than content, could be Apple's key to success because consumers aren't ready to leave behind "traditional cable offerings," the analyst wrote.
Though he is skeptical of both the "timing or reality" of an Apple television, Moskowitz did propose potential evolutionary outcomes that could result in a full-blown TV. He suggested that Apple could first expand its Apple TV into "more of a set top box module."
"We believe Apple can design a smarter set top box to manage all components behind the end user's TV experience, as well as eliminate the oft-cumbersome user interface provided by the cable and satellite operators," Moskowitz wrote.
Given that Apple released a minor update to the Apple TV this spring with support for 1080p video playback, the analyst said such a device would not arrive until 2013 at the earliest. Potential software features added to the product could include universal remote capabilities through Siri or gestures, advanced set top box capabilities, DVR capability and gaming console options.
Moskowitz then speculated that a "full-fledged" TV could arrive in 2014, though he noted that Apple's preference for double-digit operating margins could pose a problem. "We think that Apple can differentiate a TV through the industrial design and picture quality," he wrote.
The analyst pointed to patent filings detailing Apple's efforts to apply in-plane switching technology to larger screens as evidence that the company could offer an improved picture quality over existing television models. Apple's scale and display investments could also enable it to provide "'Retina Display' quality in a large flat-screen format," according to Moskowitz. Finally, Apple's unparalleled industrial design techniques would give it another advantage in building a successful television.
J.P. Morgan's doubt about a 2012 Apple television launch stands in opposition to some analysts who expect such a device to arrive this year. Jefferies analyst Peter Misek said last month that he has "enough confidence" that Apple will release a television set at the end of this year.
After voicing skepticism about the long-rumored Apple television project, Moskowitz said he was "more optimistic" about Apple releasing a mobile payment platform. He dubbed the hypothetical service "iPay" and suggested it could make use of near field communication (NFC) technology in future iPhone or iPad devices. NFC chips have been rumored as an addition to the iPhone for years, but they have yet to materialize.
"Currently, we do no have any evidence of an "iPay" platform in development, but it is our view that the company's current "Apple Store" app that enables consumers to check themselves out of an Apple Retail Store could be the stepping stone," he said.
Moskowitz was quick to point out that there would be "hurdles" in working with other financial institutions and the credit card company, but he added that "the prospects of a pay with your own device model are increasingly likely."