Samsung unveils quad-core Galaxy S III with 4.8" AMOLED screen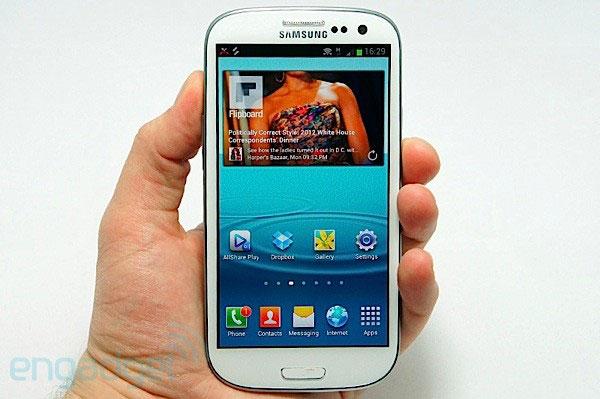 AppleInsider may earn an affiliate commission on purchases made through links on our site.
Samsung on Thursday took the wraps off its highly anticipated Galaxy S III smartphone, featuring a 1.4-gigahertz quad-core processor, 4.8-inch HD Super AMOLED screen, and Google's Android 4.0 Ice Cream Sandwich operating system.
The new flagship Android phone from Samsung will likely be a major competitor to Apple's iPhone 4S when it goes on sale later this month, as both Apple and Samsung have been dominating all other competitors in the smartphone market. In the last quarter alone, Apple sold 35.1 million iPhones, but Samsung has not revealed exactly how many smartphones it sold.
The new Galaxy S III has a quad-core 1.4-gigahertz Samsung Exynos processor with a gigabyte of RAM, which compares to the 512MB of RAM in Apple's A5 processor that powers the iPhone 4S. The latest Galaxy smartphone also offers internal capacities of 16, 32 and 64 gigabytes, matching the iPhone 4S in terms of available storage.
At 4.8 inches, the Galaxy S III display is significantly larger than the 3.5-inch screen Apple has utilized on all iPhone models to date. The extra screen real estate also makes the device quite a bit bigger, at a size of 136.6 by 70.6 millimeters, compared to 115.2 by 58.6 millimeters for the iPhone 4S. The Galaxy S III is slightly thinner than the iPhone 4S, at 8.6 millimeters compared to 9.3 millimeters.
Like other Samsung smartphones, the Galaxy S III features the company's custom TouchWiz user interface, which has been overlaid on top of Google's Android 4.0.4 operating system.
Engadget spent some hands-on time with the new Galaxy S III before Tuesday's unveiling in the U.K., and said the new handset's hardware looks and feels a lot like its predecessors rather than standing out with a new design. That's led Samsung to instead emphasize new software additions to the Galaxy S III, such as new gestures for quickly launching applications.
"Once enabled in settings, you can tap and hold the screen, rotate the phone horizontally and you'll be sent to the camera app," Mat Smith said of his hands-on time with the Galaxy S III. "Using the same accelerometers, a new calling function will dial whoever's contact details you have displayed when you raise the phone to your ear."
Other new additions include "Smart Stay," which switches the front display on or off based on whether or not a face is looking at the screen, while "Smart Alert" displays any missed calls or notifications once the phone is picked up by using the built-in accelerometer.
Another new addition is "S Voice," which offers voice interactions with the Galaxy S III. Samsung has promised that users will be able to use voice commands to unlock the handset, control the music player and capture photos, but this functionality was not yet available to members of the press when the handset was demonstrated on Thursday.
The slogan for the Galaxy S III is that the handset is "designed for humans," also pushing the software aspects of the device that Samsung believes will make it easier to use and more functional.