iPad tablet market share will dip to 50% by 2017, study says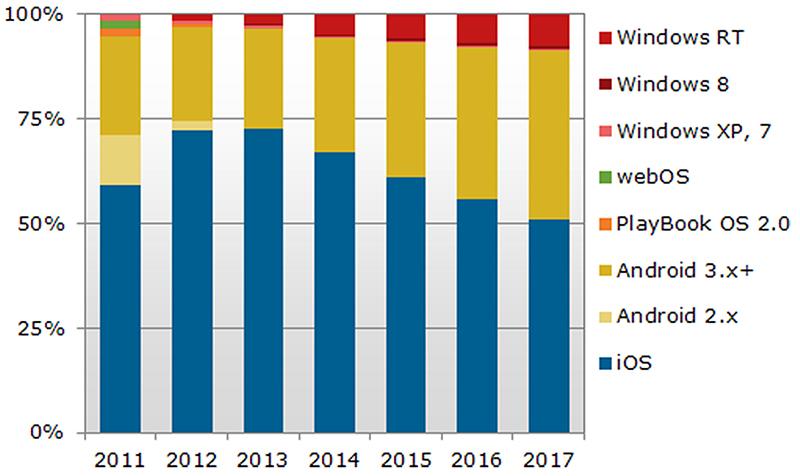 AppleInsider may earn an affiliate commission on purchases made through links on our site.
Market research firm NPD estimates that Apple's share of the tablet space will dwindle to just over 50 percent by 2017, while Android and Windows-based devices will begin continue to eat into the iPad's overwhelming lead by 2014.
The findings were reported in NPD Group subsidiary DisplaySearch's Tablet Quarterly on Thursday which estimates that the overall tablet market will swell from 81.6 million units in 2011 to 424.9 million units by 2017.
The report notes that worldwide tablet shipments will surpass those of notebooks by 2016 driven by an increasing set of features, operating system diversity and manufacturing capacity.
"So far in this relatively young product category, the tablet PC market has been dominated by Apple and has tended to include a number of competing products that are similarly configured to the iPad," said NPD DisplaySearch Senior Analyst Richard Shim. "However, as the market matures and competitors become better attuned to consumer preferences and find opportunities to break new ground, we expect the landscape to change dramatically, giving consumers more choices, which will drive demand for more devices."
One of the main differentiators between the variety of tablets currently and the proposed future is which operating system is used, and thus far Apple's iOS has dominated the space since its introduction in 2010.
As of the first quarter of 2012, research firm IDC saw the iPad as owning 68 percent share of the entire tablet market.
NPD expects that Apple's share will fall from 72.1 percent in 2012 to reach 50.9 percent in 2017, while Android and Windows RT tablet shipments will grow from 22.5 percent to 40.5 percent and 1.5 percent to 7.5 percent, respectively.
The findings are slightly different than recent numbers posted by Gartner that said the iPad will have less than a 50 percent share of the market by 2016.