Design schematic claims to show front panel of Apple's next iPhone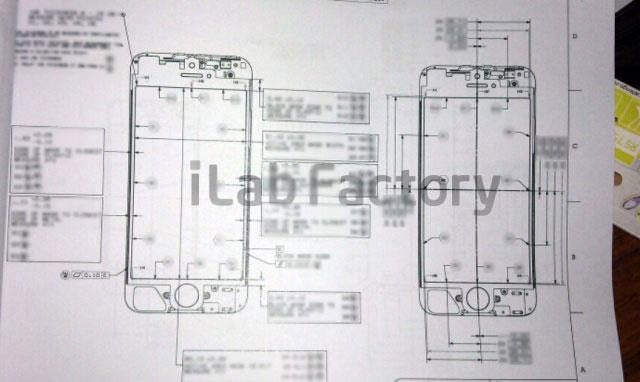 A picture purporting to show the design schematic for Apple's next-generation iPhone lends even more support to rumors that the device will be slightly taller with a larger display.
The images published on Wednesday by iPhone repair firm iLab Factory (via Macotakara) show what appears to be a slightly taller iPhone design, accommodating a larger screen that has been rumored to be 4 inches diagonally. The design also appears to have moved the forward-facing FaceTime camera to the center of the device, just above the earpiece.
The schematics appear to match up with images that surfaced a day earlier, showing an elongated back panel claimed to be from Apple's next iPhone. That part shows an aluminum back with what look to be like small glass ends on the top and bottom of the handset.
The back panel that was pictured online on Tuesday is one solid piece connected to the sides. Pictures of the bottom of the panel also show space for a smaller dock connector, and a headphone jack that has been moved from the top to the bottom of the device.
However, the font on the product name "iPhone" on the back of the alleged prototype part also appears suspicious, and does not identically match Apple's existing logo, which has suggested to some that the part could be an elaborate counterfeit.
The alleged iPhone schematic that surfaced Wednesday is just the latest in a line of evidence that the next iPhone could have a slightly larger screen. Numerous reports earlier this month, including one from The Wall Street Journal, claimed that Apple has been ordering larger screens that measure 4 inches diagonally for its next iPhone.
The sixth-generation iPhone is expected to be a major departure from the largely identical external appearances of the iPhone 4S and the iPhone 4. Rumors have pegged the next iPhone to launch this fall, about one year after the debut of the iPhone 4S.