Nest thermostat now available for $250 in Apple's online store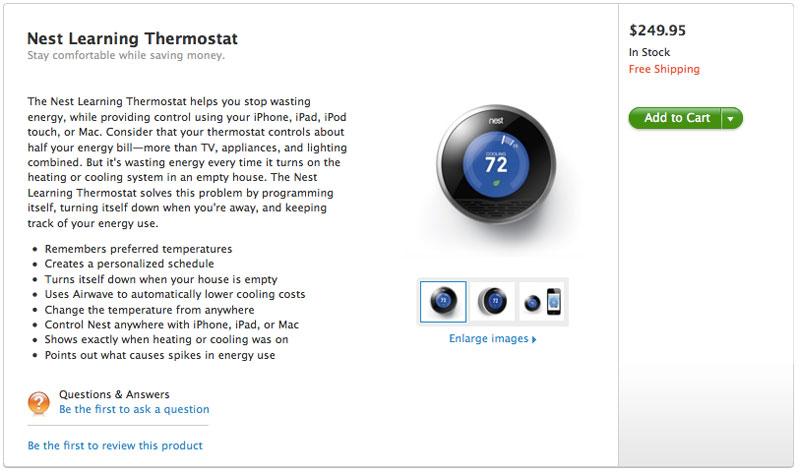 After more than nine hours of downtime, the Apple online store returned Wednesday morning offering the Nest Learning Thermostat for $250.
The new product was created by ex-Apple executive Tony Fadell, who is credited with the title "grandfather of the iPod." The thermostat is the first product from startup Nest Labs, which was founded by Fadell after he left Apple in 2010.
Last week, word first surfaced that Apple would also begin stocking the Nest thermostat at its brick-and-mortar stores. The inclusion of the thermostat is interesting, as the device is not directly associated with an Apple product. Most third-party products carried by Apple are offerings like iPhone cases, speakers and other accessories.
Though he is the former vice president of Apple's iPod division, and the Nest thermostat has its own iPhone application on the App Store, Fadell no longer has any official ties with Apple.
"The Nest Learning Thermostat helps you stop wasting energy, while providing control using your iPhone, iPad, iPod touch, or Mac," the official product description reads on Apple's online store.
"Consider that your thermostat controls about half your energy bill—more than TV, appliances, and lighting combined. But it's wasting energy every time it turns on the heating or cooling system in an empty house. The Nest Learning Thermostat solves this problem by programming itself, turning itself down when you're away, and keeping track of your energy use."
The Nest thermostat is advertised as being compatible with the iPhone 4S, iPhone 4, iPhone 3GS, all iPad models, and the fourth- and third-generation iPod touch. Features of the device, as highlighted in the Apple store, include:
Remembers preferred temperatures
Creates a personalized schedule
Turns itself down when your house is empty
Uses Airwave to automatically lower cooling costs
Change the temperature from anywhere
Control Nest anywhere with iPhone, iPad, or Mac
Shows exactly when heating or cooling was on
Points out what causes spikes in energy use
The product available for sale comes with the thermostat display, the thermostat base, installation and "Start Here" guides, mounting screws and labels, and an optional mounting kit. Customers can also visit the official Nest website to ensure that the product is compatible with their existing air condition system.