Impact of tablets to drag PC unit growth down to 1%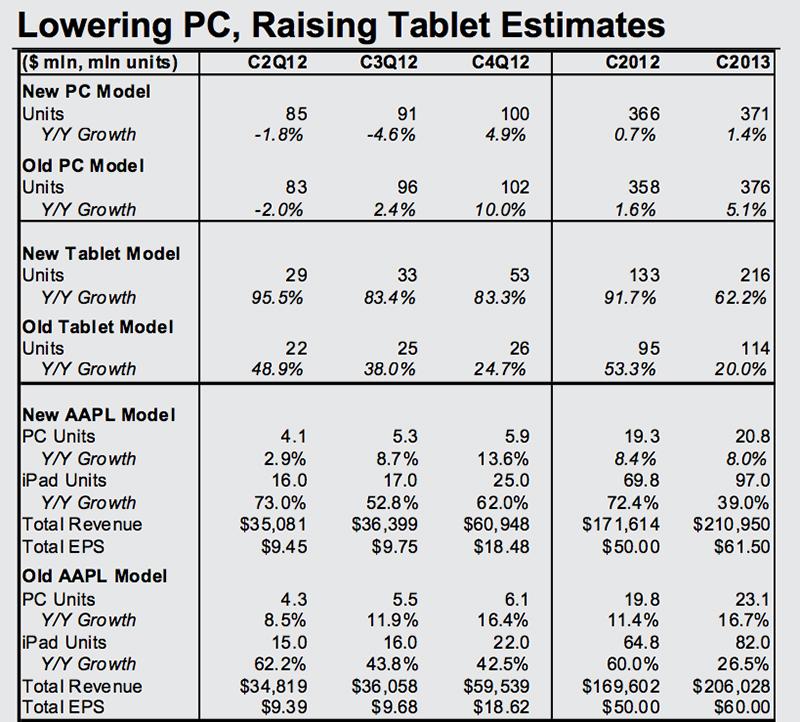 Riding on strong sales and adoption rates tablet cannibalization of the PC market has been greater than expected, causing analysts to lower PC unit growth expectations for the 2012 and 2013 calendar years to one percent.
Morgan Stanley released data from its latest AlphaWise global consumer survey on Thursday and found that tablet demand and PC cannibalization rates are higher than previously estimated.
PC unit growth is now expected to atrophy to one percent over the 2012 and 2013 calendar years. This new metric is a substantial decrease to the firm's most recent estimates that put growth for the sector at 2 percent and 5 percent for 2012 and 2013, respectively; a slightly more conservative forecast than IDC's 5 percent and 9.5 percent for the same period.
Analyst Katy Huberty expects the tablet market to grossly outperform the firm's most recent estimates and hit shipments of 133 million in 2012 and 216 million in 2013, a 40 percent and 89 percent increase to the previous forecast. Huberty notes that 41 percent of new tablet purchases will either replace or delay PC purchases, a 14 percent jump from what was expected.
Adding to the acceleration of tablet demand, which inversely affects PC sales, is a slow uptake of Windows computers as consumers await the Fall launch of Windows 8. With big-box retailers less likely to hold large inventories, PC unit growth is expected to decelerate for the next two quarters followed by a rebound by the end of 2012.
While Apple may be a victim of its own success with the huge popularity of the iPad, the sheer number of tablets coming out of Cupertino will likely offset the cannibalization of Mac sales. Huberty sees AAPL earnings per share to rise in 2013 to $61.50 with a price target of $738.