55" Apple LCD TV for about $2,000 seen as matter of 'when,' not 'if'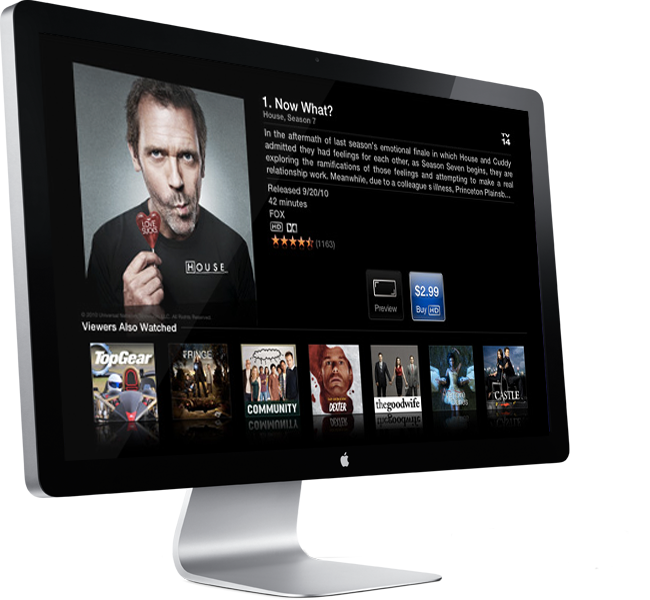 Recent information from component suppliers and comments from Apple CEO Tim Cook have further increased one analyst's confidence that Apple will unveil a television set late this year and launch it in the first half of 2013.
Gene Munster with Piper Jaffray sees Apple's full-fledged television set retailing between $1,500 and $2,000, with screen sizes between 42 inches and 55 inches. Such a product would add between 4 and 8 percent to Apple's calendar year 2013 revenues, he believes.
"The bottom line is that evidence including our checks this week and over the past two years with component suppliers, Tim Cook's D10 interview, Steve Jobs' biography, and third party reports all point to Apple working on a television," Munster wrote in a note to investors on Friday. "We believe 'if' has been decided and now the question is 'when.'"
He expects that the product will be unveiled later this year and will hit the market about six months after it is announced. That would be in line with Apple's previous product launches with the iPhone and iPad, both of which were announced months before their launch to give developers a head-start.
For Munster, the key focus for Apple will be creating a revolutionary TV interface, likely including Siri, compatibility with third-party devices, and potential integration with content guides. If the company can achieve those goal, he believes the interface will be the device's key selling point.
Munster also believes that an Apple television would have its own App Store for games, music, video and other content. He sees users interacting with these applications through their voice, an iPhone or iPad, and potentially even motion capture built in to the display.
He also expects that an Apple TV set would include design cues from the company's existing product lineup, such as an aluminum casing and a minimal number of wires. The design will make it "the stand-out centerpiece of the consumer's living room," he said.
Munster also expects that Apple's television set will feature an LCD screen, rather than next-generation OLED display technology. He noted that OLED panels remain too costly for large screen sizes for Apple to adopt.
As for content, the analyst doesn't expect Apple to revolutionize that aspect of TV watching. Munster believes Apple ultimately wants to offer users unbundled channels and more options, but since content owners are hesitant to change.
"This will take time (3-5 years), and while we believe Apple will innovate on its existing TV content offering at the launch of the Apple Television, we caution that the initial offering may more closely resemble the apple TV content offering (Netflix, iTunes, and eventually Hulu)," he said.
The connected TV market in 2013 is estimated by Piper Jaffray to be sales of 110 million units. If Apple were to capture between 5 and 10 percent of that with an average selling price of $1,750, it would be sales of between 5.5 million and 11 million, which would add 4 to 8 percent to the company's calendar year 2013 revenue.