E3 2012: Microsoft SmartGlass connects Xbox to iPhone, iPad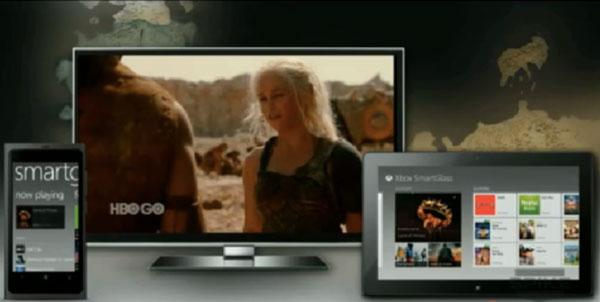 Microsoft on Monday unveiled a competitor to Apple's AirPlay: SmartGlass, a new feature tied to its Xbox 360 game console that connect to Apple's iPhone and iPad to enhance content watching and game playing.
Xbox SmartGlass was unveiled by Microsoft at its media briefing at the Electronics Entertainment Expo in Los Angeles, Calif. The new cross-platform functionality will come to Apple's iOS, as well as Google Android and Microsoft Windows Phone and Windows 8, later this year.
Microsoft showed off how content being played on the Xbox 360 could be complemented by additional content on a tablet like an iPad. In one demonstration, a user watching "Game of Thrones" on the HBO Go application had the show streaming to their HDTV, while an interactive map of the fictional world was displayed on a tablet and was updated in real-time, synced with the program.
In another demonstration, Microsoft showed a new version of its Internet Explorer Web browser for Xbox 360, and how that browser can be controlled by a smartphone, like Apple's iPhone. Calling the smartphone "the world's best remote control," Microsoft showed how SmartGlass will allow users to take control of their Xbox and browse the Web.
SmartGlass functionality will also enhance games such as "Madden NFL" from EA Sports. One video showed an iPad-like tablet being used to select plays and even draw up new ones that can be utilized in the game on Xbox 360.
Microsoft's Xbox SmartGlass can also be used much like Apple's AirPlay feature built into iOS, which allows users to stream content from their iPhone or iPad to an Apple TV set-top box. With SmartGlass, users will be able to stream movies from an iPhone or iPad to their Xbox 360, presumably using a Microsoft-built iOS application. The same functionality will also be available on Android, Windows Phone and Windows 8.
Microsoft also on Monday showed off a new version of the Nike+ fitness application, built for its Kinect motion control accessory. Nike has had a partnership with Apple for its Nike+ fitness applications on iPod and iPhone for years.