E3 2012: Sony partnering with HTC for 'PlayStation Mobile' Android gaming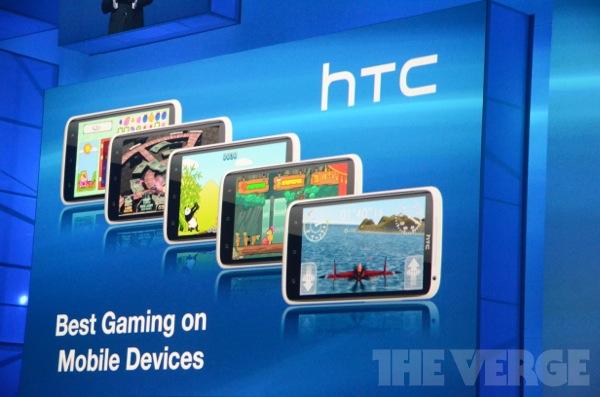 AppleInsider is supported by its audience and may earn commission as an Amazon Associate and affiliate partner on qualifying purchases. These affiliate partnerships do not influence our editorial content.
Sony revealed on Monday at E3 that it is partnering up with Taiwanese handset maker HTC for the first non-Sony devices to feature its newly-renamed "PlayStation Mobile" Android gaming platform.
During a keynote presentation at E3 2012 in Los Angeles, Calif., Sony announced that it was changing the name of its fledgling PlayStation Suite platform to PlayStation Mobile to "reflect the mobility of the PlayStation experience," The Verge reports. The company first unveiled its plans for the Android game store last January.
Sony said that response to its PlayStation Suite beta, which began in April, has been "nothing short of phenomenal."
"Very soon we will be bringing the PlayStation experience to Android tablets and smartphones in a major way," the company added. "We have many PS Certified phones coming to market this year."
The electronics maker outed HTC as its first "non-Sony group partner" for the platform. HTC enjoyed early success on the Android platform, but it has struggled in recent months. In April, the vendor announced that profits had fallen 70 percent in the first quarter of 2012 "because of competition from the iPhone 4S."
Most recently, HTC experienced some delays in shipping its handsets to the U.S., a market that used to account for more than half of the company's revenue. The customs review was prompted by an injunction that Apple had won against HTC via a lawsuit with the International Trade Commission.
With the PlayStation Mobile platform, Sony is taking a pronged approach to reasserting its mobile gaming prowess. For years, Sony's gaming arm held a large chunk of the industry's profits, but the increasing popularity of smartphone and tablet gaming has begun to quickly erode that share. Sony fought back with the release of its PlayStation Vita handheld last year, but the device has so far only encountered middling demand.
During a recent earnings call, Sony revealed that it had sold 1.8 million Vitas as of March 2012. Sony expects to sell 16 million handhelds, including its older PSP, over the next fiscal year, which runs until March 2013.
After years of its Mac platform being known as second-rate for gaming, Apple has found a hit with its iOS app ecosystem. CEO Tim Cook said at a conference last week that he believes the company is "big in gaming" with the iPod touch. He added that he wasn't interested in getting into the console business just to be in it, while noting that Apple does want to do what its customers want it to do.
In April, sources claimed that Apple engineers are working on a physical controller for gaming on its mobile devices. One game developer said in March that the arrival of a controller for the iPad would pose a serious challenge to console gaming incumbents like Sony and Microsoft.
Other news items of interest to come out of E3 on Monday include the announcement that the highly-anticipated Counter-Strike: Global Offensive game will arrive on OS X at the same time as Windows, PlayStation and Xbox and Microsoft's unveiling of an AirPlay-like feature called SmartGlass that will tie-in content on iOS devices with Xbox 360 content.