Sony to take on Apple with next-gen PlayStation Portable, Android game store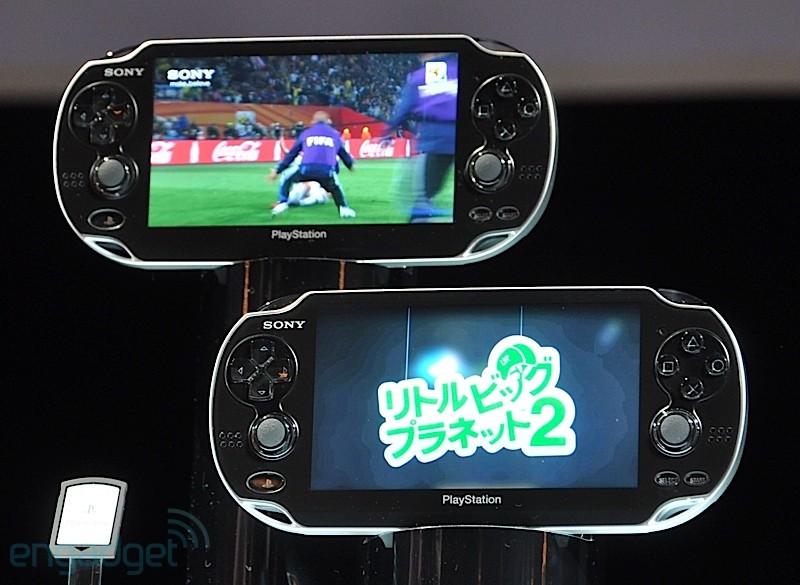 Sony will challenge Apple's iOS later this year with the just-announced next-generation PlayStation Portable, codenamed NGP, and a PlayStation Suite game store that will also be available on Google's Android mobile operating system.
After hinting that the next generation of the PSP handheld gaming device would take cues from Apple by incorporating touch and motion controls, Sony unveiled the device, dubbed the Next Generation Portable, at a media event in Tokyo Thursday Engadget reports.
The device is built around five key concepts: Revolutionary User Interface, Social Connectivity, Location-based Entertainment, Converging Real and Virtual (augmented) Reality. It will also be compatible with the just-announced PlayStation Suite, a cross-platform software framework for mobile gaming.
According to the report, the NGP will sport a 5-inch touchscreen OLED display with a resolution of 960 pixels by 544 pixels, "dual analog sticks, 3G, WiFi GPS, front and rear touchpads, motion sensors, an electronic compass, and cameras on both the front and the rear."
According to the report, the handheld will utilize a quad-core ARM Cortex A9 CPU. Sony is touting the device's CPU as "the most advanced" in its class, claiming the NGP will be as powerful as the current-generation PlayStation 3.
As reported by AppleInsider earlier this month, the Sony NGP will use Imagination Technologies' SGX543MP4+, also with quad-core capabilities.
Sony announced an aggressive release target for the NGP of the 2011 holiday season. The next-gen handheld will use a user interface dubbed LiveArea with built-in social networking.
At the event, Sony demoed titles from popular game franchises such as Killzone, Resistance, Little Big Planet and Uncharted, as well as several tech demos on the new device, including how the rear touchpad will be used for gameplay.
Epic Games founder Tim Sweeney was on hand to show off the Unreal Engine 3 on the NGP, starting with the same Citadel demo from Apple's Sept. 1 media event last year, but adding a "full living environment and realtime-rendered characters."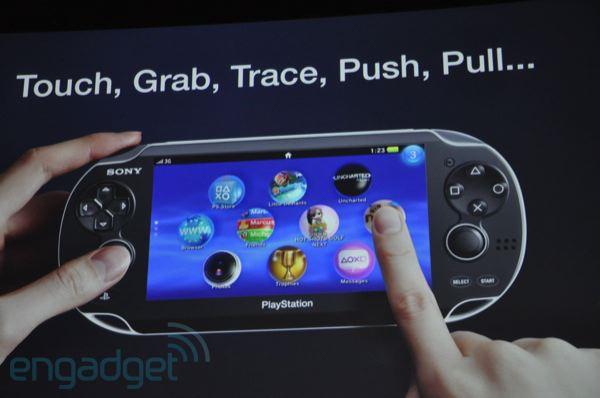 Sony's PlayStation Suite appears to be the content platform that the rumored Android-based Sony Ericsson 'PlayStation Phone' will use. The framework will initially include an emulator for PlayStation Portable and PlayStation 1 titles, eventually broadening to a "hardware-neutral" development framework for multiple devices.
Sony announced Thursday that an Android-compatible version of the PlayStation Suite is already in the works and should arrive later this year, though Android 2.3 or higher will be required.
In order to qualify for the PS Suite, hardware manufacturers will need to join the newly minted PlayStation Certified license program, which will ensure consistent quality across different devices.
Sony's partnership with Google Android is a first for the gaming giant, which has tended to prefer proprietary formats. According to the company's press release for the PlayStation Suite, "users will be able to enjoy PlayStation content on an open operating system for the first time in PlayStation history."
Sony's inclusion of a variety of input methods on the NGP: gamepad, capacitive touchpad, touchscreen, analog sticks, gyroscope, accelerometer and dual cameras seems to reflect a growing desperation from the company, resulting in 'control creep.' It appears that Sony, after watching the iPhone and iPod touch chip away at its market share for years, decided on an awkward marriage of the intuitive touch and motion controls of iOS with the legacy gamepad and analog stick controls from its previous PlaySation products. As with the PlayStation Portable and the PlayStation 3, Sony has once again turned to raw hardware specs and processing power to drive sales.
That Sony is willing to partner with Google Android, as much a rival as Apple's iOS, only adds to the evidence that both Sony and Google see Apple as a threat so dangerous that it would turn rivals into partners.
A recent report by Interpret revealed that the proportion of mobile games played on the Nintendo DS and Sony PSP had declined by 13 percent. Even more worrisome for standalone gaming manufacturers was the fact that more than 27 percent of consumers who play games only on their phones actually own a DS or PSP, but do not actively use them.
Last fall, Wedbush Morgan Securities analyst Michael Pachter went so far as to predict that "the PSP2 is going to be dead on arrival," though he, of course, made the prediction without knowing the specific details of the NGP.
In October of last year, rumors emerged that Apple was considering buying Sony. Apple CEO Steve Jobs had told analyst that the company was planning big moves with its more than $50 billion warchest.
Though the rumors were quickly dismissed, their rapid dissemination may evince the public's view that Apple is in a dominant position and that Sony is struggling. According to Reuters, Sony is expected to post a fall in profits next week when it reports its quarterly earnings. By comparison, Apple reported its best quarter in history last week with revenue of over $26.74 billion.