New Mac Pros rumored with 8-core Xeon E5 CPUs, Thunderbolt & USB 3.0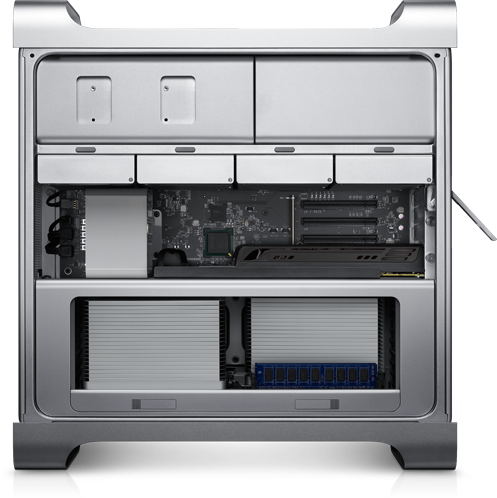 AppleInsider may earn an affiliate commission on purchases made through links on our site.
Apple's anticipated Mac Pro update will feature Intel Xeon E5 series processors with either six or eight cores, as well as native support for USB 3.0 and Thunderbolt.
The new Mac Pro desktop tower has been given a codename of K5B, according to MIC Gadget. It will also reportedly feature 1600MHz memory with 8 channels, SATA III/SAS 6-gigabyte-per-second drive connectivity, and PCI-Express 3 native support for video cards.
Intel's new Xeon E5 workstation-class chips first hit the market in early March. They are based on the Sandy Bridge micro-architecture that first found its way into the remainder of Apple's Mac lineup last year.
This year, Apple's MacBook Pros, MacBooks Airs, iMacs and Mac minis are expected to be upgraded to Intel's latest-generation Ivy Bridge processors. But the Mac Pro won't be getting Ivy Bridge processors with this update because those chips "handle voltage far worse than their 32nm Sandy Bridge brethren," according to the report.
The new SATA III/SAS native connectivity is expected to be a major boost for speedy solid-state drives, while native PCI-Express 3 support with 40 lanes per socket will enhance RAID arrays and video cards. The onboard memory controller has also reportedly been moved to the CPU itself, which will allegedly result in a "massive leap" in performance.
And along with standard USB 3.0 and Thunderbolt support, memory is said to be likely to see an upgrade to 1600MHz, an improvement from the 1333MHz memory in Apple's previous-generation Mac Pros. The new desktops are also expected to have 8 physical memory lanes, allowing for 25 percent more memory.
AppleInsider on Wednesday was first to reveal part numbers for Apple's considerable Mac refresh expected to be announced at next week's Worldwide Developers Conference. Among the more than a dozen new Mac models were three Mac Pro configurations with the name K5B.
Also expected to receive updates next week are the 15-inch MacBook Pro, 11- and 13-inch MacBook Air, 21.5- and the 27-inch iMac. Refreshes to the remainder of the MacBook Pro lineup, as well as the Mac mini, are expected to come later in the year.