New part numbers reveal Apple to refresh most of Mac lineup at WWDC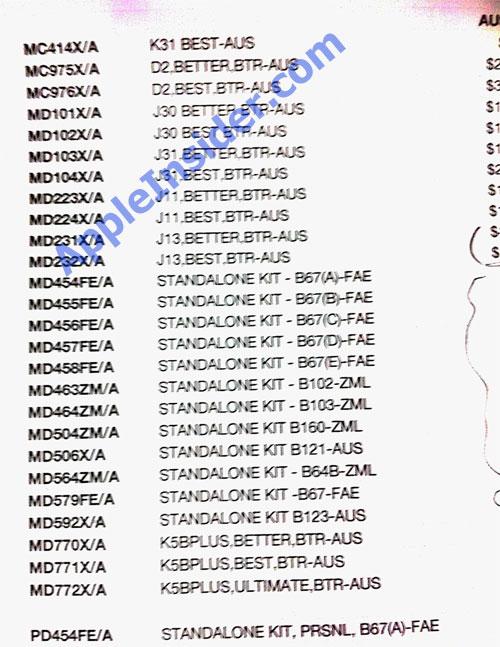 With the WWDC keynote now just five days away, a list of alleged part numbers provided to AppleInsider suggests Apple may be preparing to revamp nearly its entire Mac lineup.
A total of 27 new parts are on the list, and 14 of them appear to be new Mac hardware, while the remaining 13 parts are listed as "standalone kits." All of the part numbers also reportedly appear in Apple's reseller system.
A total of 14 new Mac models arriving next week would mean that Apple may upgrade an uncharacteristically large number of its computers at once. At present, a total of 20 different Mac models, not including build-to-order options, are listed in Apple's store among its five product lineups: MacBook Air, MacBook Pro, Mac mini, iMac and Mac Pro.
None of Apple's lineup has yet to be upgraded to Intel's latest-generation Ivy Bridge processors. Suitable ultra-low voltage Ivy Bridge chips for the MacBook Air debuted last week, while chips that could be used in the MacBook Pro lineup launched in late April.
The purported parts show new Macs allegedly headed for sale in Australia. The person who provided the picture indicated that Apple appears to be sending a reasonable amount of stock to resellers in that country in time for a launch next week.
AppleInsider was also provided with Australian Good and Service Tax numbers for each of the part numbers listed in the inventory. With this 10% tax, the following prices have been extracted, allowing for educated guesses on what each part number could be: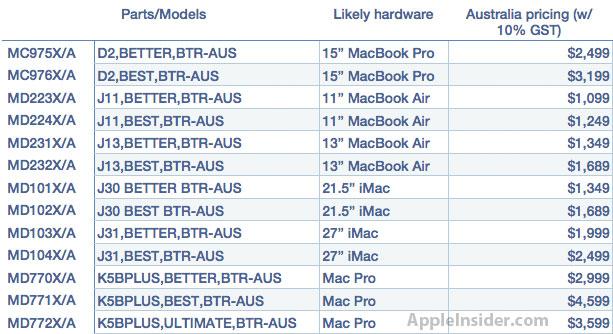 Apple is expected to update the 15-inch MacBook Pros first, before the 13- and 17-inch models are upgraded with thinner designs and higher resolution displays. Apple also offers the MacBook Air in two sizes of 11 and 13 inches, and the iMac with screens of 21.5 and 27 inches. Priced at $119 Australian, the "K31" hardware is likely either an AirPort Express or a new, cheaper AirPort Extreme.
The three parts identified as "K5BPLUS" are believed to be new Mac Pro desktops. Inventory of the Mac Pro has become diminished ahead of next week's Worldwide Developers Conference, and recent rumors suggested the desktop would receive a refresh, despite the fact that officials at Apple were reportedly questioning the future of the professional desktop lineup.
The parts list provided to AppleInsider also includes a number of other parts, labeled both "better" and "best" for various model options. They are known as "J11," "J13," "J30," J31," and "D2."
Another part listed has just a single model, identified as "best." It is identified as "K31." Not listed among the original parts list provided were technical specifications for the new Macs, or prices.
Specifically rumored to receive updates at next week's WWDC keynote on Monday are the MacBook Pro, which is expected to feature a thinner and lighter design similar to the MacBook Air along with a new higher resolution display, as well as the all-in-one iMac desktop, which is also said to receive an upgraded display.
Apple is expected to unveil new products at its WWDC 2012 keynote, which will be held at 10 a.m. Pacific next Monday, June 11. AppleInsider will have full, live coverage of the event, as well as the rest of WWDC.