Mac Pro in-store pickup inventory slips ahead of WWDC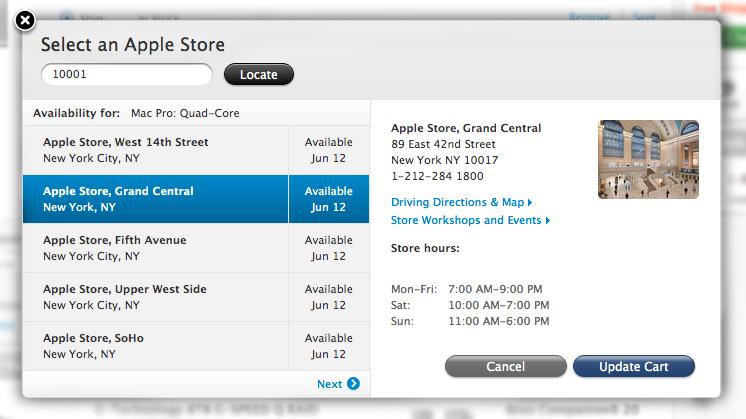 Apple's aging tower computer is seeing a drought of in-store availability with many stores quoting new stock shipments on June 12, which could mean that a refresh of the long-in-the-tooth PC is imminent and may be announced at WWDC next week.
An inventory check of Apple's online store reveals that many locations across the U.S. don't even have the basic Quad-Core Mac Pro model available for in-store pickup let alone pricier 12-core models, meaning that the computer is either sold out across the board or the company is holding stock for as yet unannounced refresh.
The pushing back of availability, first discovered by MacRumors, adds fuel to a bonfire of rumors that say the tower will be receiving a long-overdue refresh at Apple's WWDC next week. Even flagship stores that regularly boast large on-hand inventories like Grand Central Station are supposedly out of stock of all Mac Pro models. The same location will have the Server version of the tower in stock by June 9 while all others will be ready for pickup on June 12.
It should be noted that while the majority of brick-and-mortar Apple Stores are quoting mid-June availability, a small number of outlets do have units in stock.
Apple retail stores from California to New York are reporting pick-up dates of June 12, which happens to be one day after WWDC kicks off with a keynote from CEO Tim Cook.
It was recently reported that a Facebook petition was created calling for information as to why the Mac Pro line hasn't seen an update for nearly two years. The page currently has over 17,500 likes. Further commentary from Jim Dalrymple of The Loop claims that there's no chance Apple will axe the venerable machine media professionals have relied on for years. Once the undisputed king of the Mac lineup and test bed for cutting edge technology, the Mac Pro has fallen to the wayside recently as the company refocused its attention to the popular all-in-one iMac. Whereas the iMac and even the Mac mini have Thunderbolt connectivity, the Mac Pro has yet to enjoy that feature out of the box.
If the Mac Pro is indeed refreshed, it remains unclear whether the update will include a case redesign or merely be a chance for Apple to upgrade the PC's internal components which haven't changed significantly since 2010. The last Mac Pro design revision was seen in 2006 when Apple switched from IBM's G5 processors to Intel's multi-core Xeon silicon, though the changes made were mostly internal and the machine carried over the aluminum case first used in the PowerMac G5.